A little Mission, my linen cupboard makeover and organisation, sharing the 5 things I did in order to create an organised space for the laundry in our family home. So where to start..? With some good music and focus, my Power Hours came in handy! #powerofanhour
This time of year when the sun starts shining and the days are a little longer, it makes me want to throw open the windows and have a really good declutter – are you the same?
I don't know about you but when everything is in order, I feel my brain works little more effectively and the house runs more smoothly. (My family may disagree, but that's my story and I'm sticking to it!) I was the same when I was revising for my exams at school, I simply couldn't take anything in if my room or desk was cluttered or untidy..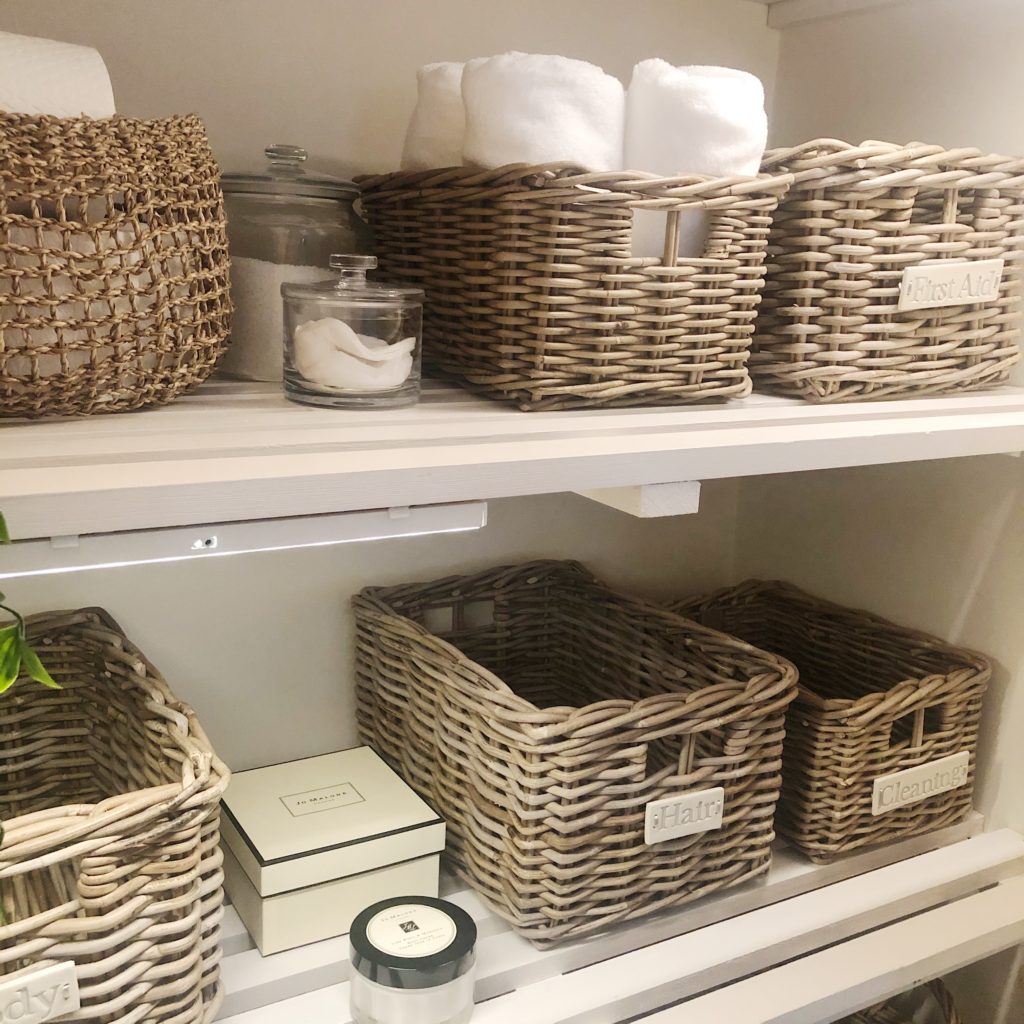 The Declutter

It's essential to know what space you really have and it's tricky to see with anything from towels to an assortment of pillows and toiletries in the way. Everything was removed and put into piles; what needs to stay, go or recycle. Where this may seem drastic, a clear space is much easier to visualise what you have to work with. I gathered everything I needed from cleaning products to paint so I had everything to hand. The cupboard was then dusted from the top down, including the light fitting and prepped for painting.
The walls were painted in School House White and the shelves in All White, both Farrow and Ball. This immediately brightened the space and made so much difference. Exciting!

With everything now out of the space and the paint drying, it was a time to get radical: old towels, bed linen that had seen better days and as Marie Kondo suggests didn't "spark joy" were recycled. Toiletries and medicines that had expired were disposed of and everything that didn't need to be in this cupboard had a new home to be found. It's so easy to accumulate these items over the years. Somehow even our gift wrapping paper had found its way in here!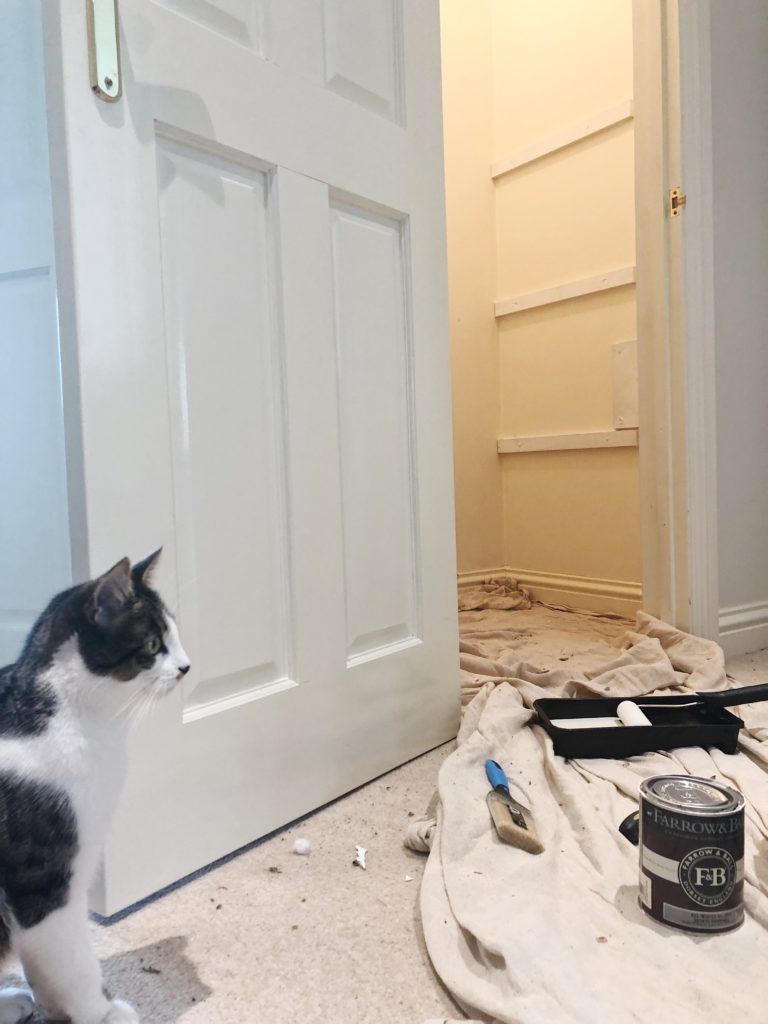 The Planning

With a clean slate so to speak, and a piece of paper, I planned what would work and where, what needed to be most accessible and what was required in order to make the best of the space. Everything should have its place. This way there should be more chance of the family being able to find and replace items with ease. The system should work!

Items that are used seasonally, such as beach towels and Christmas table linen, were placed on the higher shelves. Items such as towels, bed linen and body products that are used more frequently, were placed on lower, more accessible shelves.

I knew I wanted to have our washing baskets in the cupboard, a change from the bedrooms. This way, they would be hidden away and not taunting me to pop another load of washing on! This meant an additional shelf would be required, together with additional baskets and labels.
Measurements were recorded and off to the DIY store I went where they kindly cut the wood to size so that it matched the existing shelves. I'm quite pleased with the results, having learnt to make the shelf on the job!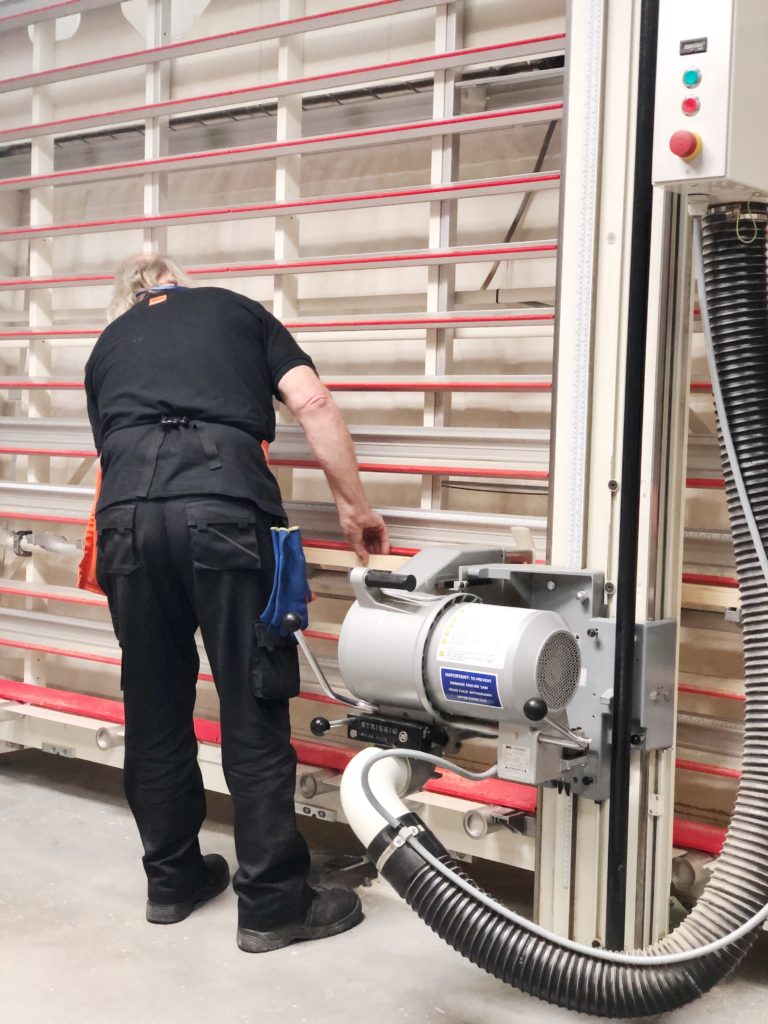 Creating A System For Linen Cupboard Organisation.

Having decluttered and now having an idea of what was to go where, neatness and having a system makes a difference.
Each bedlinen set is neatly folded together with the sheets into one pillow case. No more digging around looking for pillow cases and sheets. (We've all been there right, especially when the children are poorly in the middle of the night!) These are now housed in their own basket, perfectly large enough to hold all our bedlinen.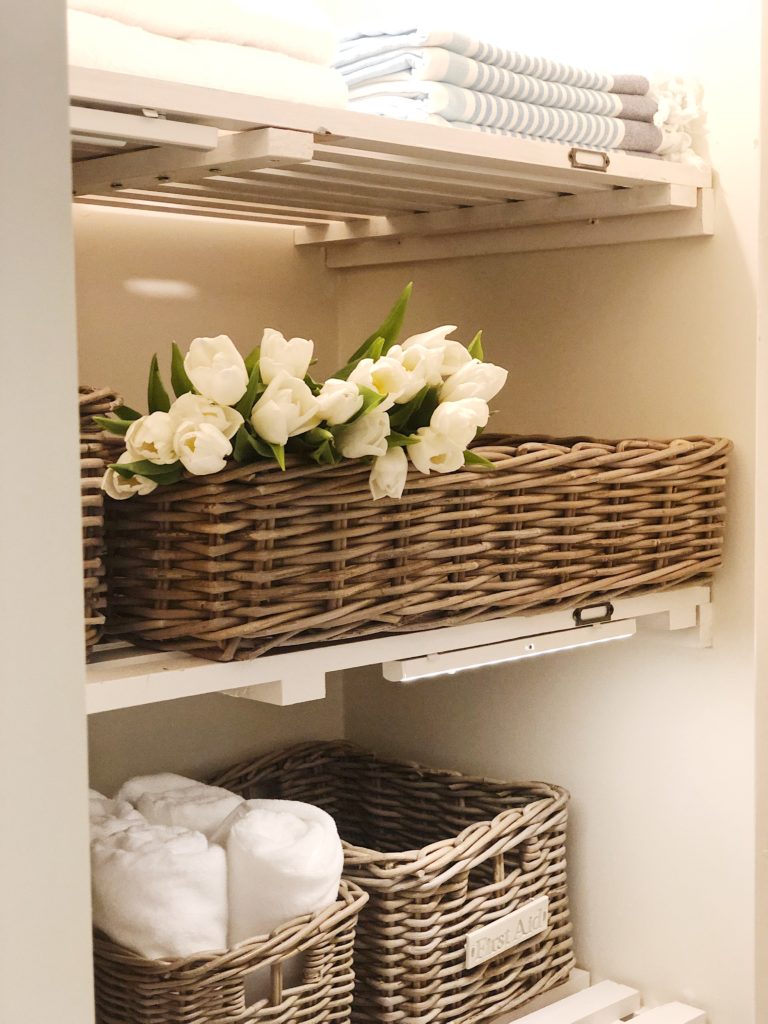 Hair, body, first aid, cleaning products and hand towels all have their own baskets as do our toilet rolls. I know that may sound a little over the top! However, if this area is to maintain a sense of calm and tidiness, everything needed had to have their own home and to be easily accessible. These have been placed in the middle shelves.

I adore jars, they not only are super for storage but they also add a different dimension and light. Here in the larger jar I've decanted my Magnesium (epson) Salts so we all know where they are after exercising!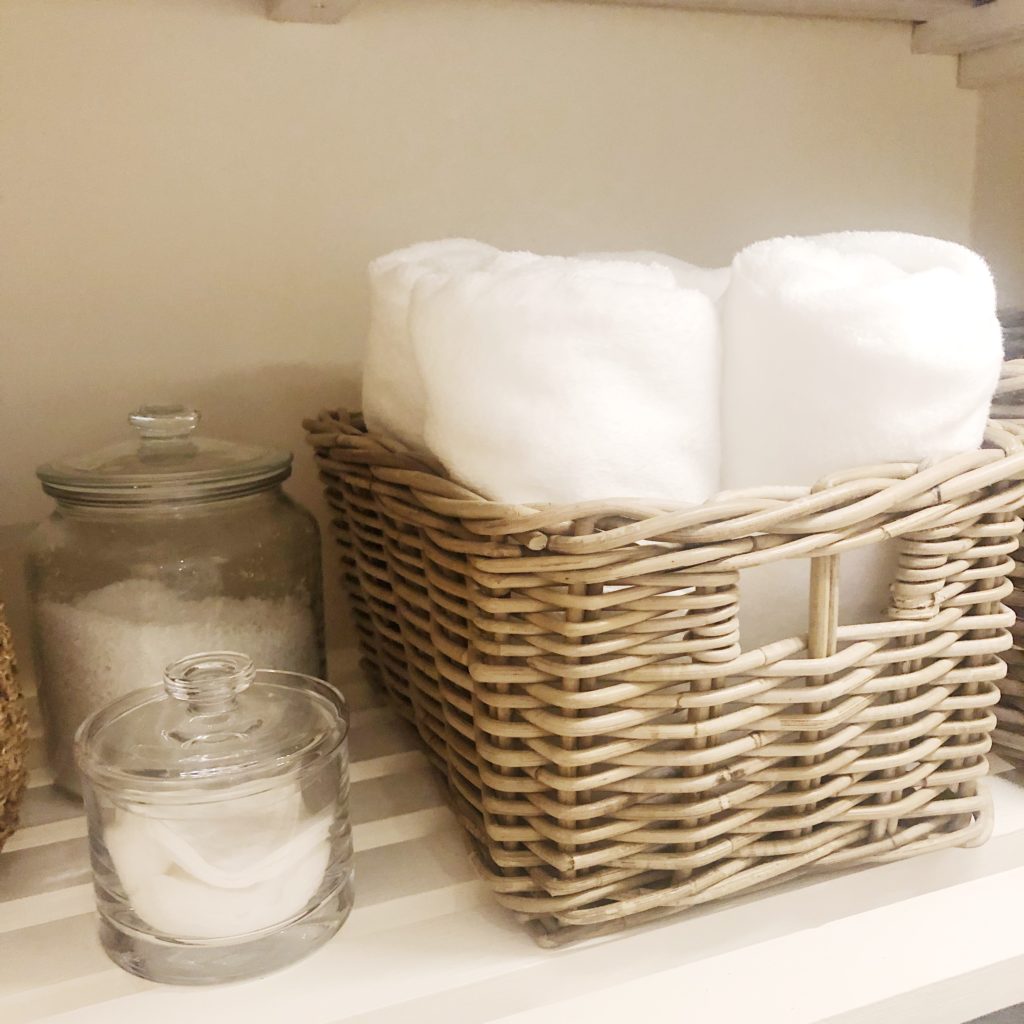 Problems I encountered

Well thankfully only one and it's a little one! The cupboard has a light at the top from the ceiling. It would have been really helpful to have sensory lights on each shelf so they activated as the door opened. I found some in Ikea, They were really reasonable and I bought one for each shelf.
Unfortunately, the door is too far away from the shelves due to the depth of the cupboard so they aren't activated as soon as the door opens. However not all is lost, as soon as there is movement, the lights are activated. Not perfect, but not a huge problem either!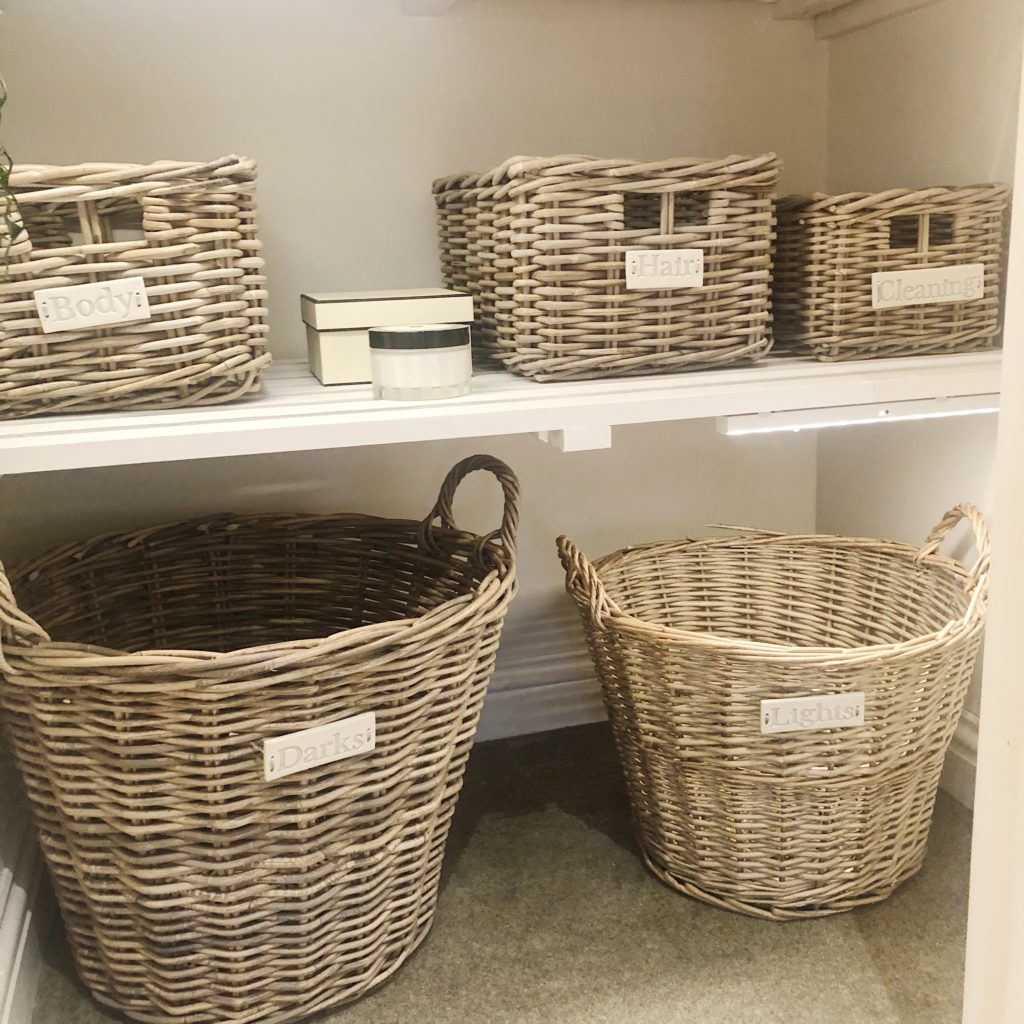 Everything in it's place for optimal linen cupboard organisation.

Having decided what to go where, the gorgeous clay tags from Fabaclay were the perfect finishing touch for the baskets. Where it wasn't possible to use the clay labels, these antique brass metal file holders add a unique touch.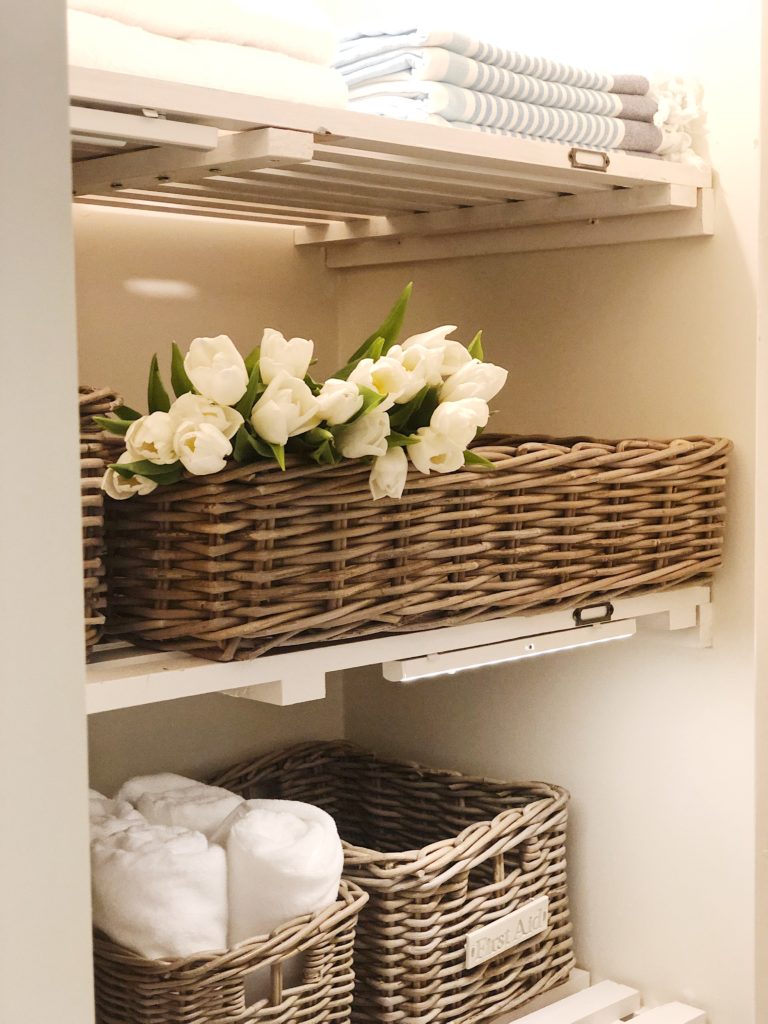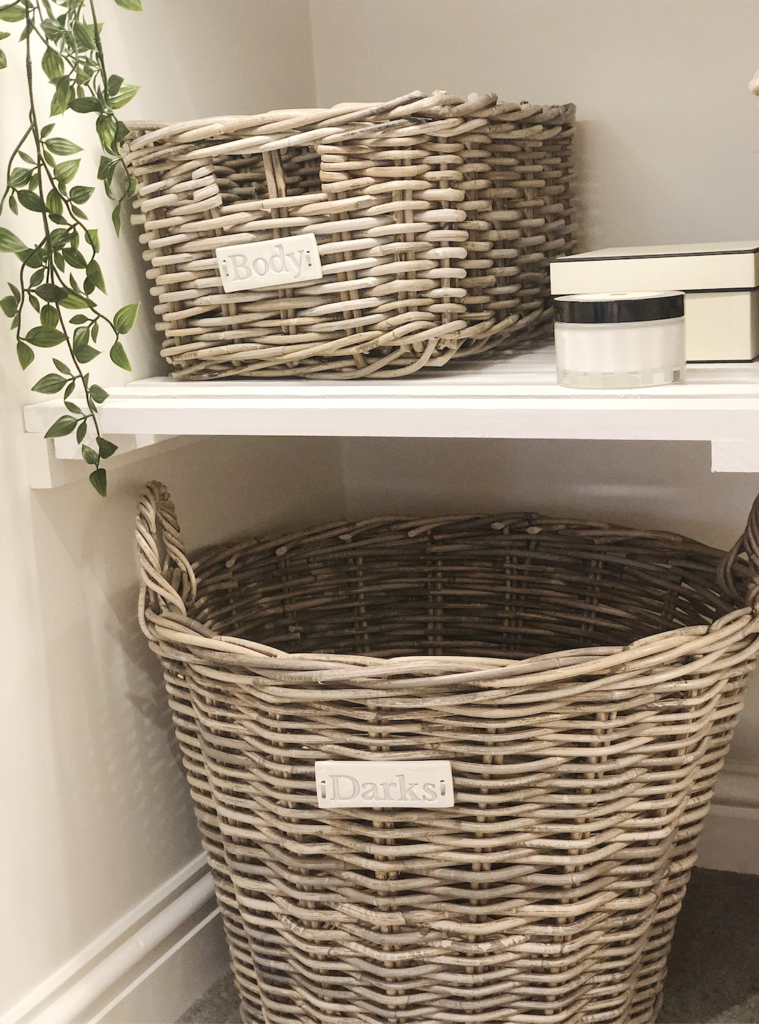 The linen cupboard makeover and organisation has been complete almost 2 months now. I can happily share that it works! We can all readily find what we need and yes the washing does end up in the correct basket! Honestly, it's a joy to now going to the linen cupboard rather than having a "heart sink" moment each time I open the door. It's currently my favourite cupboard in our house!
I'd love to know what you think in the comments below.
Best wishes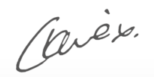 I was delighted to hear that I'd won a giveaway with Fabaclay and the Basket Company as I was planning this project. It really helped the organisation of this makeover. I'm thrilled to say that both companies collaborated with me, with an instagram giveaway with The Basket Company and 5 tags gifted by Fabaclay.
.
Opinions, as ever, are wholly my own and 100% authentic.