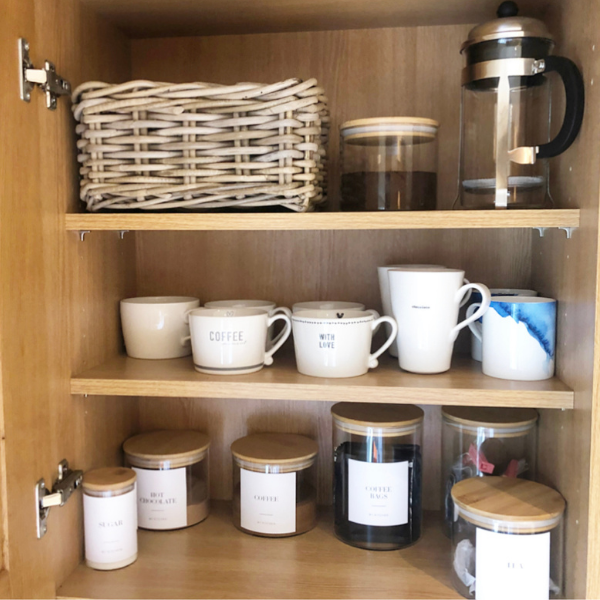 Following on from my Blog post last week, where I shared my top 5 books to help your home become beautifully organised, this week it's all about the Big Spring Refresh in the home, the kitchen being my number one priority. If you've been following along with this weeks Mission on Instagram, you'll know I've been talking about decluttering and organising my home now that the children have gone back to school. One drawer has led to another (isn't that always the way!) Monday's #powerofanhour I managed to declutter the garage. I seem to be on a real Mission!  
I always enjoy a good old spring clean and declutter and it seems I'm not on my own – thank goodness! Spending a year in Lockdown has meant we've looked at our spaces differently and in my case, decluttering at the beginning last March and now again a year on! We all have our systems in place and I'm sure you have your own too, however incase it helps, I thought I'd talk you through what I did to organise our kitchen and pantry cupboards.
 
Clear the clutter so you have room to see the potential in front of you.

Syd and Shea McGee
To give you a little back story, when we moved into our home, the children were still young, I was running my Fitness and Wellbeing business and up at 4.15 every morning and my husband also has a busy job! Not unusual, I hear you say.. The morning I picked up the keys, I had run two busy fitness camps for my clients at 6am and 9am and at midday, left the business to move. We had until school pick up to get the majority of the work done. Essentially I was keen to at least make the childrens bedrooms and the living areas livable! Yes my PowerofanHours were in full swing, even then!
Obviously in an ideal world, we'd have looked at the space in our kitchen and worked out logically where everything should live. We didn't, we simply unpacked the boxes (in an organised manner as possible) and that was that, back to our crazy busy lives, excited to be in our new home. it worked. Over the years, I've decluttered and moved things around but one of the positives this Lockdown has given me was to really look at our space, how it functioned, or didn't and plan accordingly.
It's been a huge lightbulb moment for me, having the brain space and time to be objective, yet creating spaces behind the doors that work so much more effectively for us as a family. I cleared a space in my diary and Mission "Spring Refresh – Kitchen" commenced!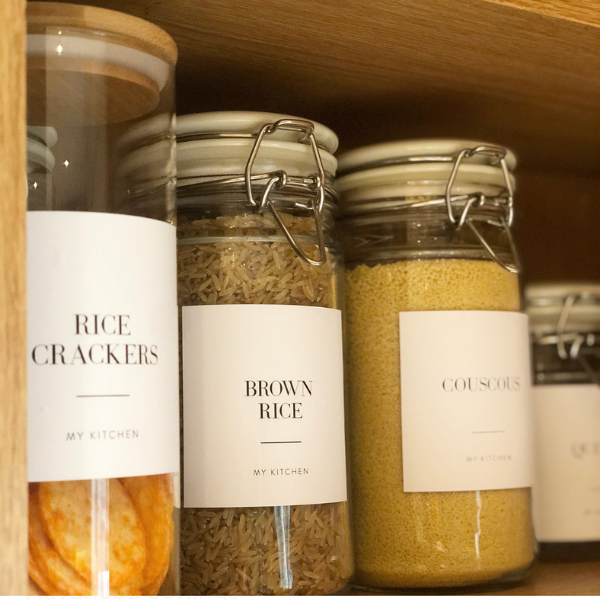 First things first..
I started with one cupboard, where we store our hot drink ingredients, thinking I'd remove the items that were out of date or no longer served the family and simply replace back in the cupboard.. However, on closer examination, I realised that this cupboard also now hosted items we used for entertaining & baking.
Most of the items were already in storage jars but overtime it had become disorganised and cluttered, not only that but our mugs were over the other side of the kitchen. Not a good use of space or time, just to make a cup of coffee! Now I know this sounds silly, I'm sure many of you already have a "hot drinks station" as The Home Edit call it, but remember we moved in and went with the flow!
Don't you just love a "before" and "after" shot!
The top shelf now stores a basket with a stock of fruit teas, together with a storage jar of filter coffee and the cafetière. the second shelf now hosts our mugs and the bottom shelf hosts the teas, coffees etc that we use regularly. Our kettle lives directly under this cupboard and it works really well! Simple things eh..?
"Having a place for everything and everything in it's place makes the world of difference" A quote my Granny Ruby would say often, I think I adopted her passion for being organised from her!
"I look forward to spring cleaning and putting things in their place. It's therapeutic for me"

Kimora Lee Simmons
Powered on, I turned my attentions to the pantry cupboards and adopted the same process.

Remove all items.

Discard what's out of date or your family no longer need or use.

Wash all storage containers and wipe cupboards.

Assess the space.

Consider what you need to complete the job. Labels? Jars? Adjust the shelf heights?

Refill storage jars and place back where they suit you, your family and your lifestyle.
Things I found useful to consider:

Think about what you actually do in your kitchen! Where you cook, where you prepare the packed lunches, which items you use more than others. It took me until recently to realise that I stored my flour on the top shelf, with all the baking ingredients, which meant I'd have to jump onto the worktop to reach it – Every. Single. Time!! Why it didn't occur to me to have a reshuffle and move these items to a lower shelf was purely because I didn't give it another thought! Yes, it was annoying! Yes, no one else pointed it out either! Yes, my family giggled at how short I was! What was I thinking, or not!!

Plan your layout! I'm an old fashioned kind of girl and when the brain goes round and round in circles, I write it down. This new system needed to work, I wanted to have a space that was efficient, yet looked elegant and that worked for everyone, keeping the upkeep to a minimum. (Our longed for kitchen renovation is still in the "dream stage" but this process all helps for when the planning becomes a reality.)
I drew