It's this time of year when the summer is definitely over and the chilly air starts to creep in. I'm always on the look out for a new recipe and even more so as the seasons start to change. We all need a little inspiration right? Today, I'm sharing a couple of recipes that will solve your dilemma of what to do with your pumpkin flesh once you've carved your pumpkins.
As the evenings begin to draw in, we start craving the warmer foods and this Pumpkin Soup is without exception. It's a firm favourite at WOAM HQ, we love to eat foods in season and so butternut squash works just as well also.
PUMPKIN SOUP: (source Good Housekeeping)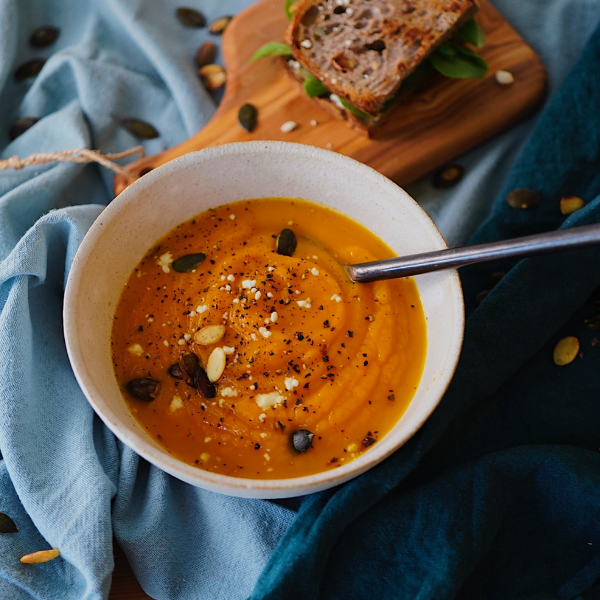 This velvety, naturally creamy soup keeps well for a day or two in the fridge.
INGREDIENTS:
850g pumpkin or squash, peeled and cut into 2-3cm chunks
200g banana shallots, skin on, halved lengthways
1 small head garlic, skin on top cm sliced off
3 sprigs rosemary
2 teaspoons dried chilli flakes (optional)
4 tablespoons extra-virgin olive oil
Sea salt and freshly ground black pepper
750ml good chicken or vegetable stock, plus extra if needed
FOR THE GARNISH: 3 tablespoons pumpkin seeds and 1 teaspoon extra-virgin olive oil
TO SERVE:  100g crumbly goats' cheese; toasted pumpkin-seed oil (optional) granary bread.
METHOD
Heat the oven to 180˚C/fan oven 160˚C/mark 4. Scatter the pumpkin in a large roasting tin with the shallots, garlic-cut-side down – rosemary, chilli (if using), olive oil and seasoning to toss to coat in the oil. Roast for 45 minutes until mostly tender and golden in places, but not too browned – if it starts to brown, cover with foil. For the garnish, toss the pumpkin seeds on a baking tray with the olive oil and toast in the oven for 5 minutes.
When the pumpkin is ready, remove the rosemary – reserve for a garnish unless blackened – and squeeze the softened garlic shallots from their skins into the roasting tray, discarding the skins. Heat the stock in a saucepan large enough to fit the pumpkin, then add the contents of the roasting tray and simmer for 15-20 minutes. Blend to a smooth purée using a stick blender, thinning with more hot stock if necessary. Alternatively, cool slightly and blend in batches in a jug blender or food processor (a processor won't give as smooth a result).
Reheat gently to serve, season and ladle into warm bowls. Crumble over the goats' cheese and scatter with pumpkin seeds. If using, break over the crisp rosemary needles and drizzle with a little pumpkin-seed oil.
Food can bring people together in a way nothing else could.

Yotam Ottolenghi
ROASTED PUMPKIN WEDGES WITH CHESTNUT, CINNAMON AND FRESH BAY LEAVES ( Source OTTOLENGHI ) (serves 4-6)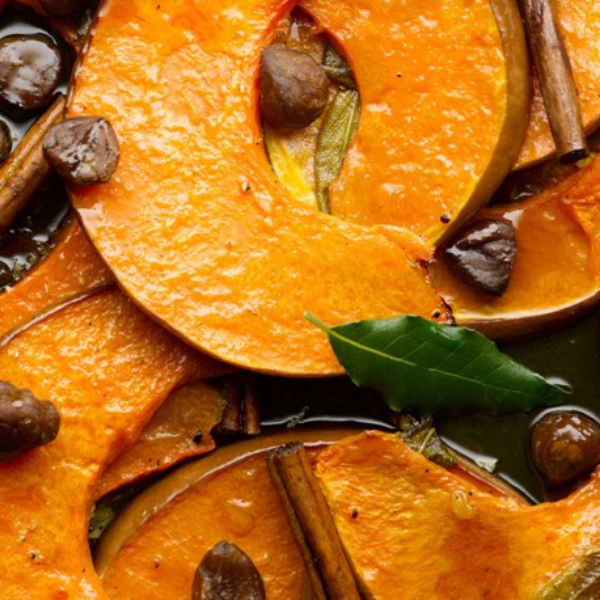 A simple and gratifying dish that looks great and is very easy to make. Lay out on a flat serving dish and bring to the table. It doesn't get much more Autumnal than this (and would be perfect at too!) Goes well with almost any main course.
INGREDIENTS
1 medium pumpkin, about 1.3kg
6 tbsp olive oil
4 cinnamon sticks
4 tbsp maple syrup
3 garlic cloves, crushed
20 fresh sage leaves
10 fresh bay leaves
Salt and black pepper
150g cooked chestnuts
METHOD
Preheat the oven to 200C/400F/ gas mark 6. Cut the unpeeled pumpkin into wedges (1-2cm at the thick end) and discard the seeds; leave the skin on. In a large bowl, toss the pumpkin pieces with four tablespoons of olive oil, the cinnamon, three tablespoons of maple syrup, the garlic, sage, half the bay leaves, and salt and pepper. Lay out in a single layer in a large roasting tray and roast for 20-25 minutes, until the pumpkin is soft and golden. Add the chestnuts five minutes before the end.
Arrange the tray's contents on a serving platter and scatter the remaining bay leaves over the top. Stir together the remaining syrup and oil, and drizzle on top. Serve warm.
Let food be thy medicine and medicine be thy food.

Hippocrates
PUMPKIN PIE MUFFINS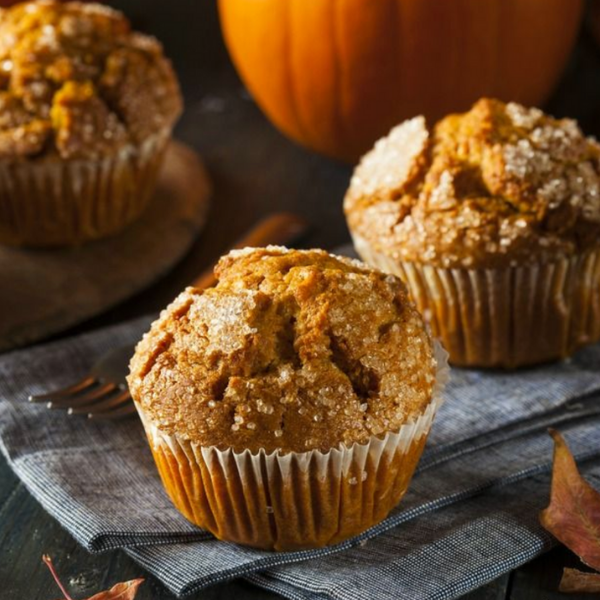 These muffins are easy to make and will fill your kitchen with the wonderful smell of autumn. They are very moist on the inside. Beware of little children who gobble them up, leaving the wrappers strewn around your house! Not such a bad problem to have considering how nourishing these treats are. gluten free Pumpkin Pie Muffins are a real favourite!
INGREDIENTS:
¼ teaspoon sea salt
½ teaspoon baking soda
1 teaspoon ground cinnamon
½ teaspoon ground nutmeg
1 cup fresh baked pumpkin (or winter squash), well packed
¼ teaspoon ground ginger
1 pinch ground cloves
2 tablespoons grapeseed oil
½ cup agave nectar
2 large eggs
METHOD
In a large bowl combine almond flour, salt, baking soda, cinnamon, nutmeg, ginger and cloves
In a food processor, puree the oil, agave, eggs and pumpkin until smooth. Add the remaining ingredients and stir well.
Spoon the mixture into muffin cases Place paper liners in muffin pan and bake at 350° for 40-45 minutes
Cool for 2-3 hours (if you can wait that long!) and serve.
I'm sure these will be a big hit with the family too.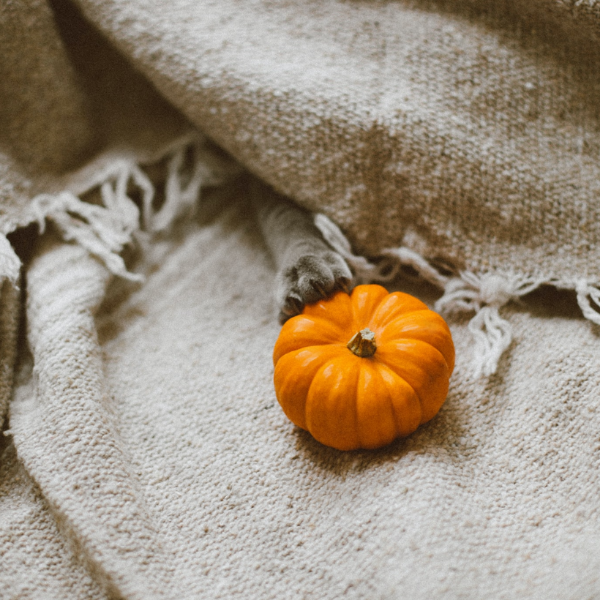 These treats are perfect after a training run or after the children's football or rugby training or even as a little snack whilst relaxing over the papers on Sunday (!)
Try it them and let me know how you get on.
What is your favourite treat to make during pumpkin season?
Wherever or however you enjoy this warming bites, hope you have a happy and relaxing weekend.
Stay happy and healthy,