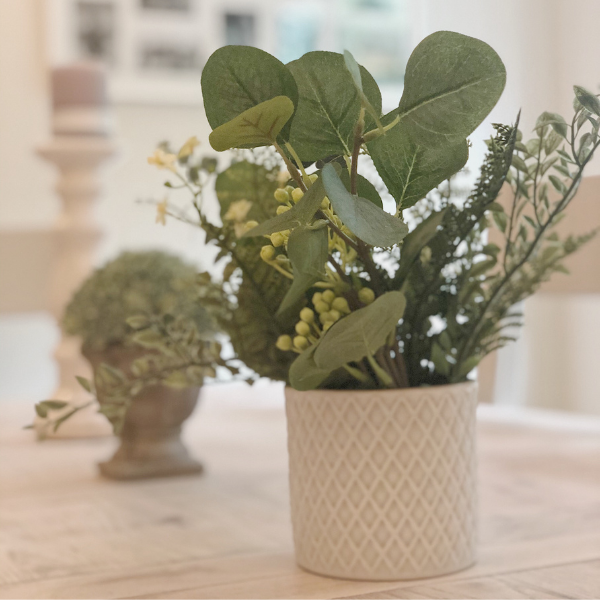 I'm not sure how it is in your house, but our Dining Room has become a real focal point each evening. It's when we all gather and sit down to enjoy a family meal, we chat about the day, the good, the bad and everything in-between!
It might sound very Waltons Family (google that if you're a little stuck, I'm showing my age!) Like breakfast times, supper time can be a stressful part of the day.. Lockdown has made us focus more on looking forward to this part of the day.
In normal life, we don't normally all get to eat together much of the time. Having two teenage swimmers in the family means that we are usually driving to and from training and food is eaten en-route! Oh the glamour! Chilly Food Tubs have been my lifesaver during the swim runs!!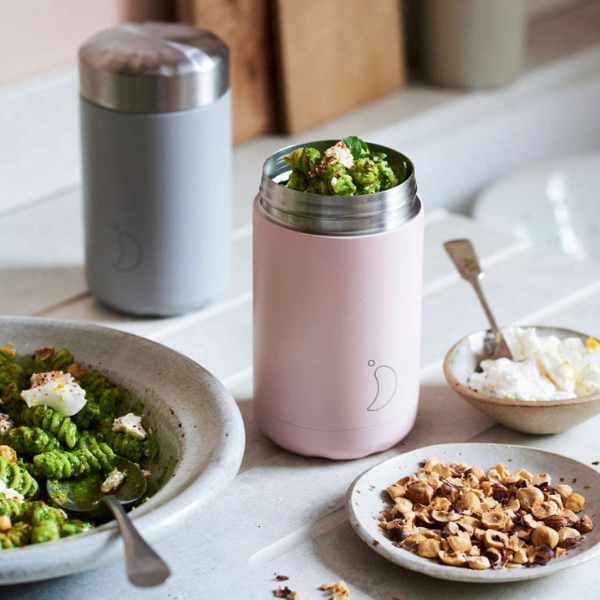 "Some of the most important conversations I've ever had, have occurred at my family's dinner table."

Bob Ehrlich.
I love to cook during the day when I'm taking a break from the desk or when the children are having their lunch break from home schooling – it makes such a difference! "Cook Now, Eat later" a motto I've taken on wholeheartedly from Mary Berry.
There is now no crazy supper time as I've cooked ahead and simply reheated or defrosted from the freezer.. What a difference it makes!  I thought I'd share a few of the favourites we've been enjoying of the last few weeks.
Thai Pork Curry.
This is my sons current favourite, adapted from a Mary Berry recipe. I've added red pepper and switched in button mushrooms from chestnut mushrooms and added French fine beans.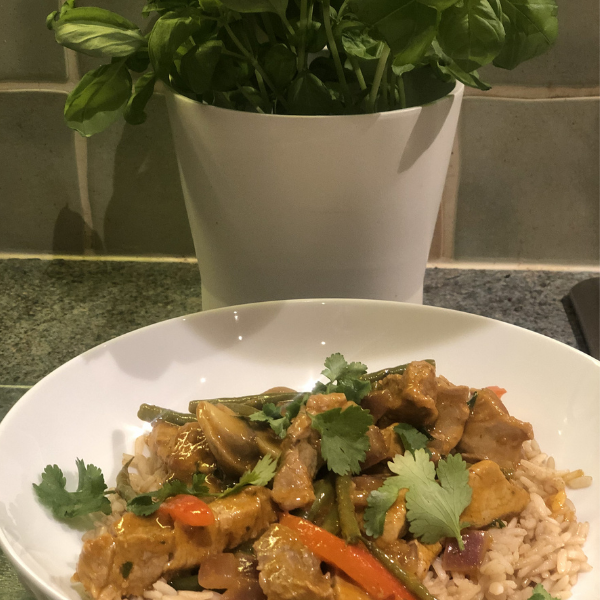 Ingredients: 
700g pork fillet, cut into fine strips 
2-3 tablespoons red Thai curry paste 
2 tbs oil 
2 large onions thinly diced. 
1 tablespoon plain flour 
1 x 400ml can coconut milk 
2 tabs fish sauce 
200g chopped mushrooms 
200g fresh fine beans  
1 red pepper cut into strips 
juice and finely grated zest of 1/2 lime 
chopped fresh parsley or coriander 
salt and freshly ground black pepper 

 
 
 
Method: 
 
?  Marinate the pork in 1 tbs of the curry paste for 30 mins. 
 
?  Heat the oil in a large pan, add the onions and cook gently for approx 10 minutes until they are tender. Lift the options out onto a plate. 
 
?  Increase the heat, brown the pork (this might have to be done in 2 batches) Remove the pork from the pan and return the onions with 1-2 tbs red Thai curry paste and the flour. Stirring well, add the coconut milk, fish sauce, mushrooms, pepper and beans.  
 
?  Bring to the boil, cover and cook gently for about 5 minutes, until the pork and sauce are just boiling and the beans are cooked but still crunchy. 
 
 Just before serving, add the lime juice and zest, plus lots of parsley or coriander. taste for seasoning and serve with rice.  
 

 
Scampi Provencal
This recipe has been in the family for years and adapted along the way.. here's the current adaptation.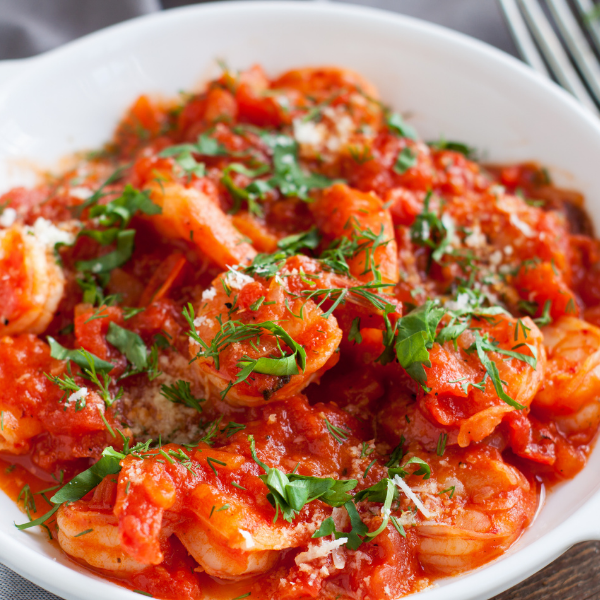 1 red pepper
1 green pepper
1 clove of garlic
1 onion
1 tablespoon tomato puree
1 teaspoon dried oregano
1 tin chopped tomatoes
350g Prawns (I tend to use giant cooked prawns)
Method:
? Chop peppers, onion garlic and soften in a pan.
? Sprinkle in dried oregano, chopped basil and season with salt and pepper.
? Add the tin of tomatoes and prawns, mixing well, before adding the tomato puree.
? Pop the lid on and simmer for 10 or so minutes, until piping hot.
? Serve with rice and salad or Ciabatta bread.
The best bit – prepare ahead.
This recipe works really well hot or cold, so can be cooked ahead of time, simply reheating if required before serving. It also freezes well, so freeze once cooled and allow to defrost overnight.
Prawn Linguine – Jamie Oliver
This is a super easy supper recipe, it's best prepared and served immediately.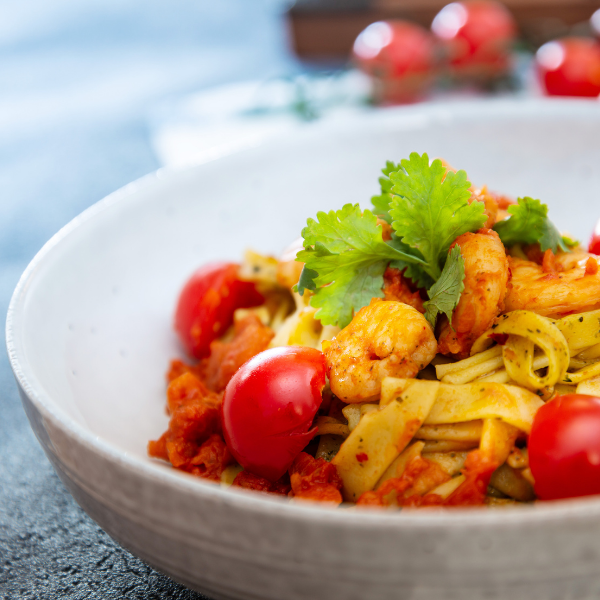 350g Dried Linguine
1 Fresh red chilli
(4 Anchovy Fillets – we don't add these)
1 Good pinch of ground cinnamon
1 pinch of saffron
360 g raw peeled prawns
2 cloves of garlic
500g passata
1 Lemon
30g Parmesan Cheese
A couple of sprigs of fresh basil
? Put the water for the pasta in a sauce pan on to boil.

? Finely chop the chilli and put in a deep frying pan with the anchovy (if using and some of it's oil. Turn up the heat.

?Add the cinnamon, saffron and prawns.

? Squash in the unpeeled garlic with a garlic crusher, add the passata and bring to the boil.

? Strain the pasta when it is ready and add it to the sauce.
Transfer to hot dishes to serve and add seasoning, lemon juice, grated parmesan and chopped basil leaves.
Serves it with a side salad and crusty bread. not open for the freezer but it's super quick to make and tastes delicious..
Jools Chicken Curry – Jools Oliver
A super simple, yet delicious meal from Jools Oliver. We have cooked this again and again and has now been christened Mums Chicken Curry, sorry Jools!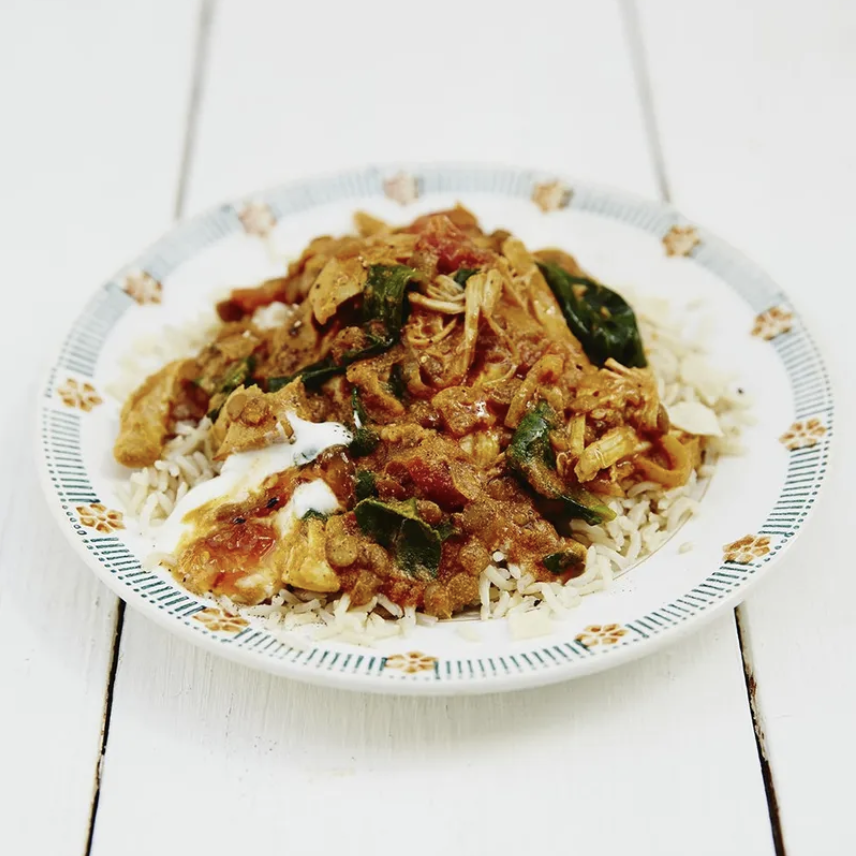 Ingredients
1 onion
4cm piece of ginger
2 cloves of garlic
olive oil
2 tablespoons tikka masala paste
3 tablespoons natural yoghurt
2 tablespoons tomato purée
8 skinless free-range chicken thighs
1 x 400 g tin of chopped tomatoes
1 x 400 g tin of green lentils
1 x 400 g tin of light coconut milk
2 handfuls of baby spinach , optional
2 tablespoons quality mango chutney
Method
? Peel and slice the onion. Peel the ginger and garlic, then finely chop or grate them on a microplane.
? Heat a lug of oil in a large pan over a medium heat, add the onions and cook for around 8 minutes, or until softened and slightly golden, stirring regularly. Add the ginger and garlic cook for a further 2 minutes.
? Meanwhile, mix the tikka masala paste, yoghurt and tomato purée together in a bowl. Halve and add the chicken thighs to the bowl. Stir everything together and get all the chicken covered in the paste mixture.
? Scrape everything into the pan, making sure you get all the paste mixture in there. Cook the chicken for 5 minutes or so, or until you see it start to colour.
?Add the tinned tomatoes, drained lentils and coconut milk. Bring to the boil, reduce the heat and simmer for 1 hour, stirring occasionally. Add splashes of water to loosen, if needed.
? When the time's up, stir in the spinach (if using) and allow it to wilt. Next add the mango chutney and taste for seasoning.
? Pull the chicken apart with forks and stir it through. Serve with wholemeal basmati rice and yoghurt on the side, if you like.
Tips
For babies and toddlers, leave out the seasoning. Allow to cool, then chop and/or mash to the desired consistency.
Italian Chicken – Mary Berry
A super simple, supper dish and yes.. it's an adapted Mary Berry recipe and yes you can make in advance and freeze too!!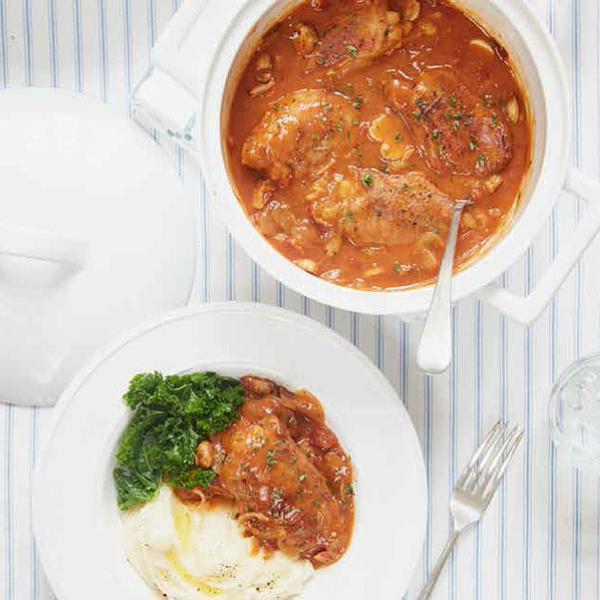 Ingredients:
123 chicken thighs, skin removed, bone in.
1-2 tablespoons olive oil
2 large onions, roughly chopped
2 large garlic cloves, crushed
2 tablespoons plain flour
300ml (1/2 pint) chicken stock
2 tablespoons white wine vinegar
190g olive and tomato sauce (such as Scala Olive & Tomato.
Freshly chopped parsley, lots!
Method:
? Season the chicken thighs with salt and pepper.
? Heat the oil in a large pan and fry the onions and garlic for a few minutes. cover with a lid and cook gently for about 20 minutes until the onions are tender.
? Sprinkle in the flour and mix well. Draw to one side and add the stock, stirring. Return to the heat and bring to the boil. Allow to thicken, adding the white wine vinegar, and season with salt and pepper.
? Add the chicken to the pan and bring back to the boil. Cover the pan and cook over a gentle heat for 20-30 minutes (turning the chicken once) until the chicken is tender. Cut into a thigh with a sharp knife to ensure juices run clear. If still bloody, continue to cook until juices run clear.
? Stir in the whole jar of the olive and tomato sauce and heat until piping hot. Check the seasoning. If the sauce is a little thick, add a little more stock or water.
? Scatter with fresh parsley and serve with basmati and wild rice or tagliatelle and a green salad.
The best bit – to Prepare ahead:  
Complete to the end of step 5,24 hours ahead. Cool quickly, cover and refrigerate. Reheat carefully, gently stirring, in a pan on the hob until piping hot. Or reheat in the oven preheated to 200C/ 400F / gasn6 for about 30 minutes. Add a little stock or water if the sauce is thick.
 
To freeze: 
Freezes well. Cool the cooked chicken quickly and freeze in a freezer container for up to 3 months. Thaw for about 6 hours at room temperature or overnight in the fridge.
 
 
To cook in the Aga: 
Cook the onions, covered, in the Simmering Oven for about 20-30 mins until tender. Use the boiling plate for stage 3. For stage 4, use the roasting oven for about 10 minutes, and then to the simmering oven for a further 10 minutes, or until chicken is cooked.
"If you have a family that loves you, a few good friends, food on your table and a roof over your head – you're richer than you think."

Unknown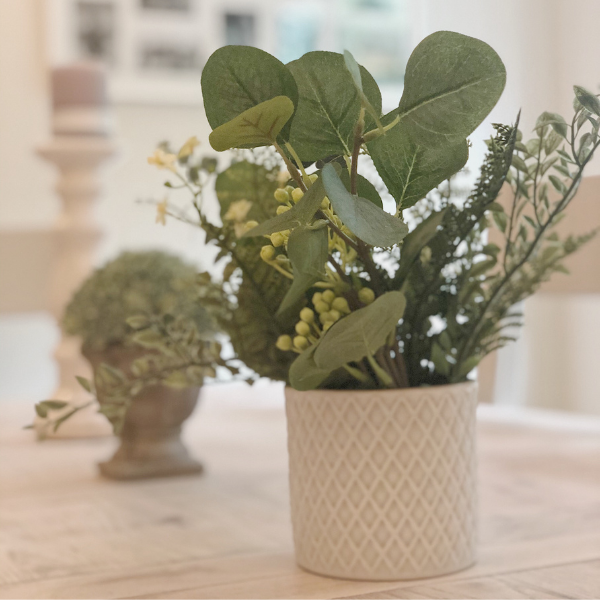 Books I love and have used again and again!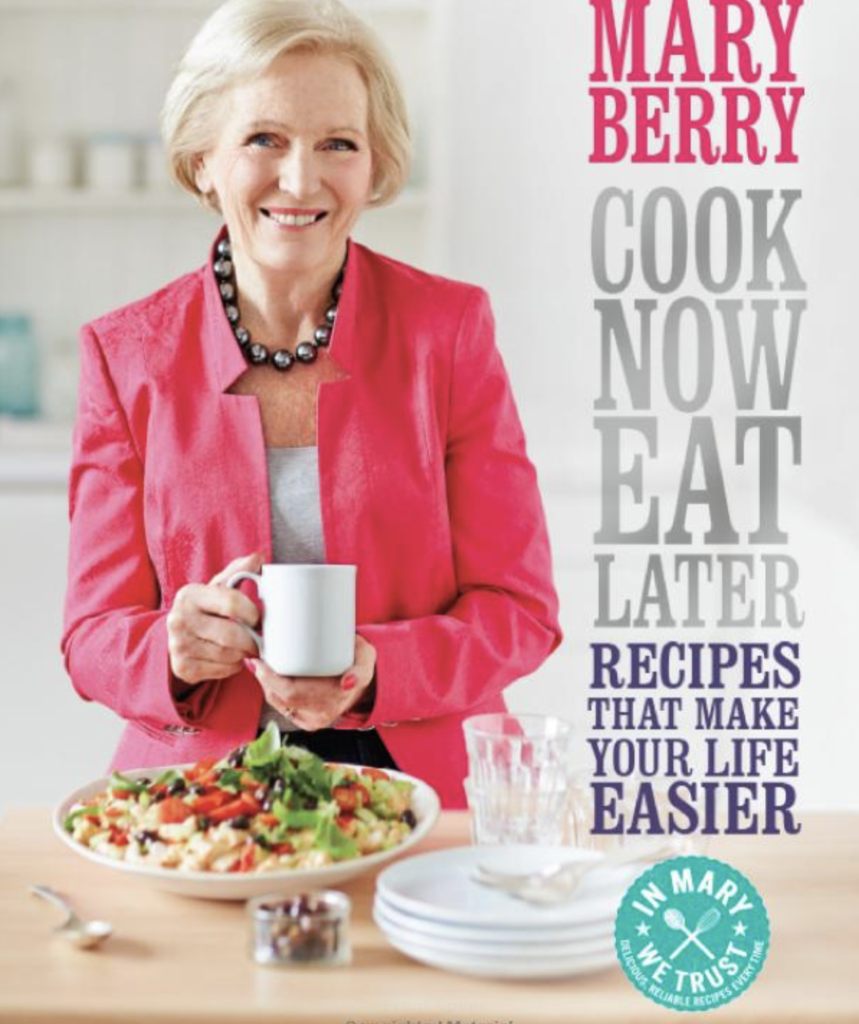 All these meals have all been big hit in our house and I really hope they'll be a big success in your home too. Let me know which ones you try and which you"l be adding to your regular menu…  

Have a great weekend, stay happy and healthy,
Love