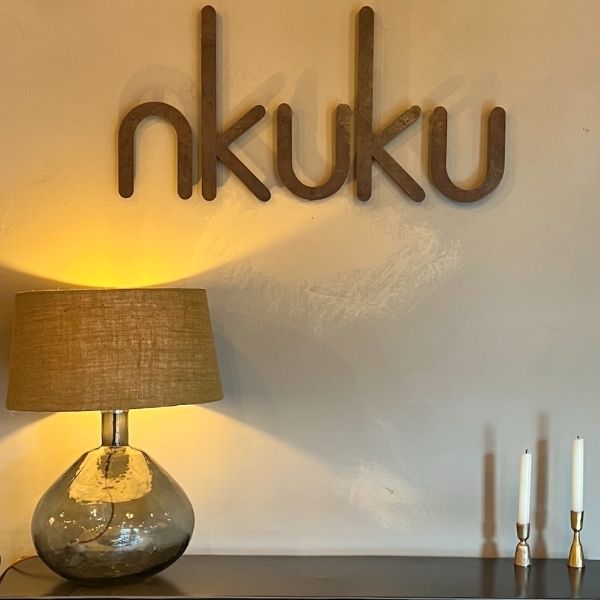 Join me on my invitation to view the new Summer Collection, lunch and share a behind the scenes tour of Nkuku Lifestyle Store. Nkuku, based near Totnes in Devon, has been newly refurbished in recent months. After several postponements, I was delighted to finally meet with the team again and see all their hard work. The Store looked fabulous, especially the newly refurbished and extended cafe. More about the cafe later.
Nkuku is based in two refurbished barns, displaying the Collections in stunning styles you can replicate in your own home. There is free parking and wifi, I might have to make this my new place to sit and write, it's so lovely.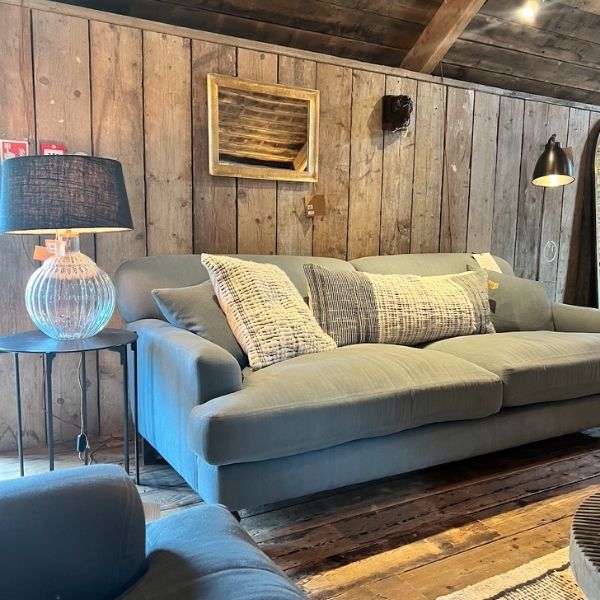 I've created 3 mood boards with my favourite pieces from the new summer collection. The new pieces are of a variety of price ranges and easily adapted to your style. The light, tactile and natural materials are easily adaptable in any living space, regardless of the size or location of your home. I hope the boards inspire you!
The Garden Room
Inspired by nature and natural surroundings, the garden room or conservatory is a perfect place for relaxing, reading and entertaining. I love candles and the braided hemp designs to bring the outside in and all the pieces together.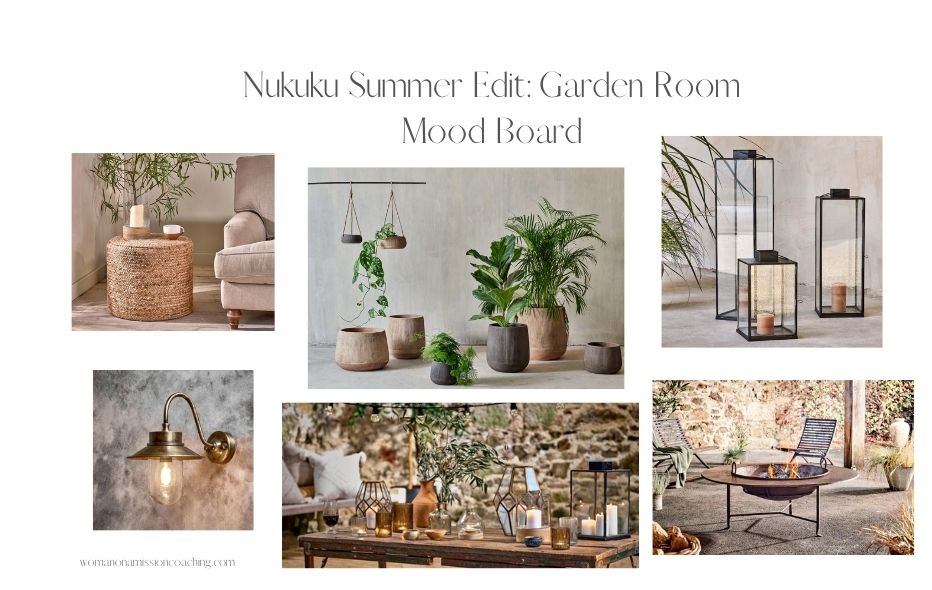 The Ondal round braided hemp side table (top left). The appealing braided pattern is expertly crafted by hand using the warm, golden fibres of hemp. This attractive side table feels solid and sturdy and works well as a neutral layer in a living room, garden room or snug area.. This table would also work well as a footstool or an occasional seat.
Planters (centre) are a fabulous way to add green and a refresh to your garden or garden room.
Sia Lantern (top right and bottom centre ) are elegant and striking, these lanterns are enhanced with an antique black metal finish. This frame holds the tall glass panels and provides the perfect silhouette for a church candle or t-light. Easily transported from home to the garden, creating a beautiful setting wherever they are.
Halali Fire Pit Kadai with Surround (bottom right) is the perfect fire pit to make a focal point in your outdoor living space. This statement piece is generously proportioned and crafted from solid iron. The traditional fire bowl shape is surrounded by a striking and practical table edge, perfect for warming those plates!
Alwar Outdoor Wall Light (bottom left) adds a sense of grace to any outdoor setting or garden room. The antique brass patina of the stylish swan neck and lamp head pares elegantly with the clear glass shade. This iconic design works well with traditional and contemporary homes alike and produces a soft warm glow.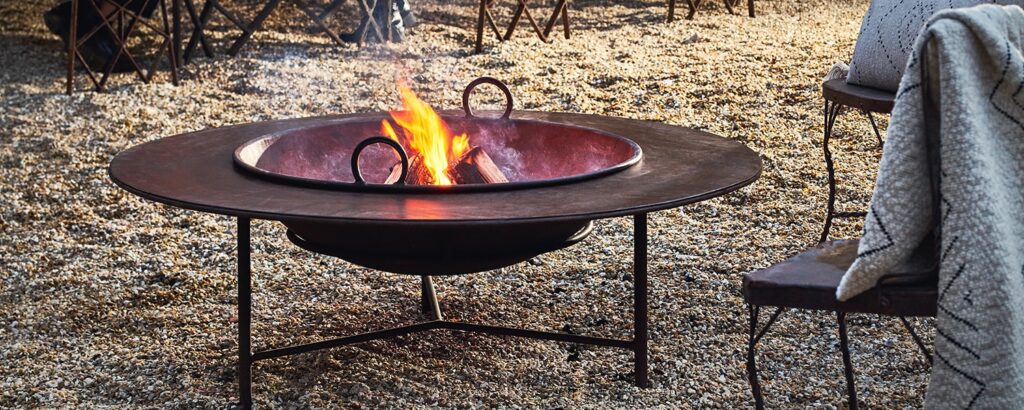 The Sitting Room
Inspired by shades of white, neutrals, wood, touches of greenery and of course, living by the Devon coast a touch of blue. Cosy, comfortable and light is the feel of our room; perfect for cosying up in front of the fire and a good book in the winter and light and airy in the summer months too.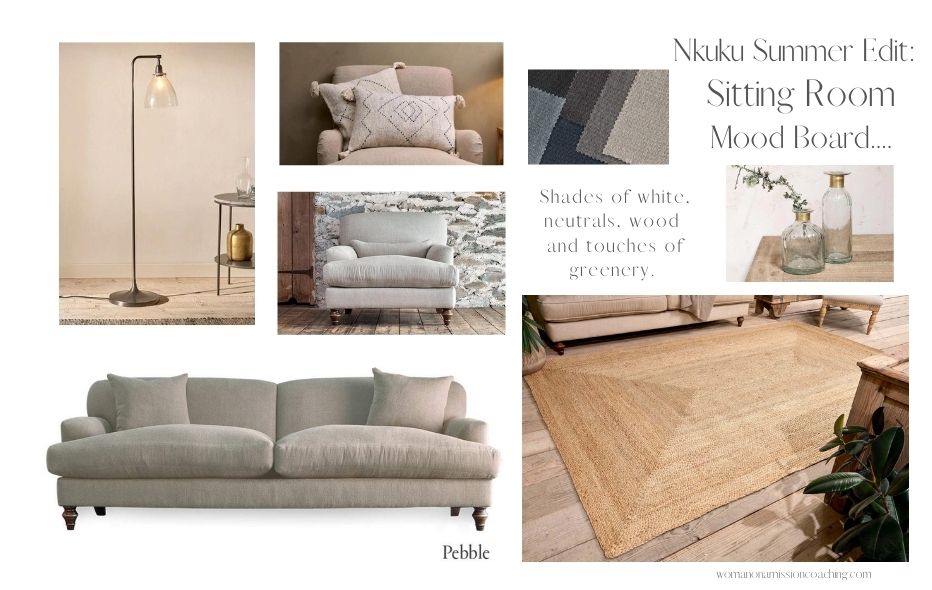 Muturi Glass Floor Lamp – Antique Brass I love this combination of warm antique brass and elegant clear glass. The striking mix of materials makes this a standout piece in any home. A classic design that works well with neutrals and bold colour scapes alike.
The Deni Collection (middle centre and bottom left) is generously proportion with deep, sumptuous seat cushions. The Grand combines soft contours, luxurious comfort and timeless design, in a stylish UK crafted solid wood framework with pure Brera Linen upholstery and solid wood legs. The Grand is designed as a luxurious and generous two-seater sofa, perfect for those who like to spread out, but it can accommodate three if and when required. Available in six muted shades, of which you can order a free swatch pack giving you the chance to feel the fabric and see the colour choices.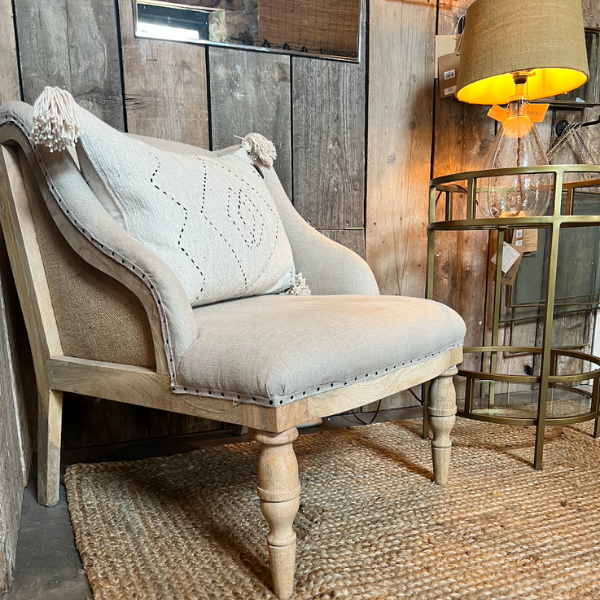 Kajala Cotton Cushion Cover (left and top centre) These cushion covers are beautiful soft and tactile. The simple, monochrome colour palette is calming and versatile, with the geometric design crafted from black thread, running through the fabric in a softly broken line.
Chara Hammered Bottles (middle centre) I love these for simple yet elegant styling around your home. The bottles are decorated with a hammered glass finish and etched detail. The bottle is skilfully created by blowing glass through the brass ring in this stylish design. Perfectly styled with with with simple stem, alone. One of mine is styled with fairy lights
Braided Hemp Rug (bottom right of the above mood board) A timeless rug, beautifully hand braided from hemp in this eye-catching traditional pattern. The warm gold hues of the hemp give the rugs a tactile, neutral appearance and understated style, perfect for any living space, conservatory or family room.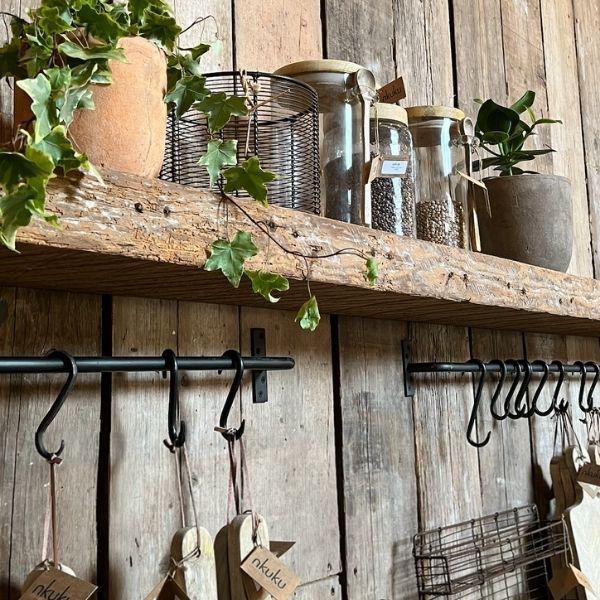 The Kitchen
The heart of the home. The busiest space of the house. With two teens, this room needs to be practical, effective and with Nkuku's styling storage jars and accessories, the new collection ticks many boxes. A place for everything and everything in it's place! See my pantry makeover for more inspiration.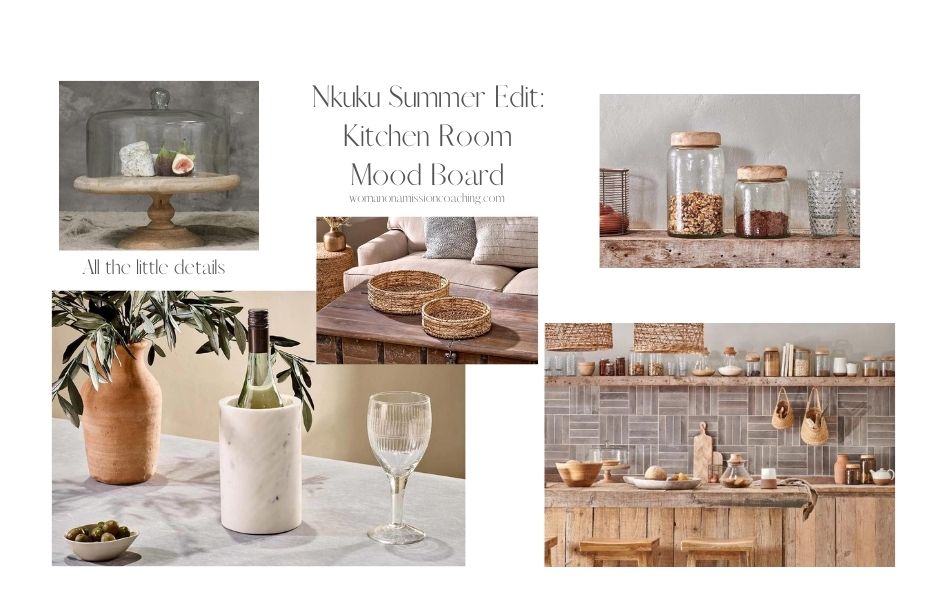 Kamtha Water Hyacinth Tray (centre) These round trays are woven from water hyacinth, a plant that grows in abundance in the waterways of Vietnam. The warm, golden tones and attractive braiding work make them a great accessory to add texture and a natural touch to your interior. I keep mine on a side table in the garden room /conservatory.
Charal Storage Jars The simple clear glass body and mango wood top of this Charai storage jar makes it the perfect everyday organisational accessory. Finished with a silicon seal to ensure that its contents remain fresh, the Charai is the perfect jar in which to keep a variety of ingredients from pulses and grains to herbs and spices.
The Dura white marble wine cooler (above left) will enhance any party. The striking variegated tones and smooth tactile finish of the luxury marble makes it the perfect accessory for entertaining and would look stunning on any kitchen island.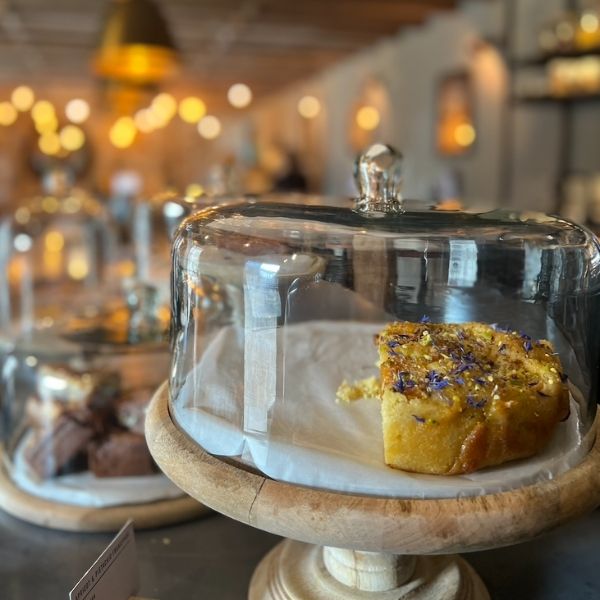 Recycled Glass Dome Cake Stand (left and top left) These elegant recycled glass cake domes provide a stylish way to display and store culinary delights from cakes to cheeses. The dome slots neatly into the mango wood base.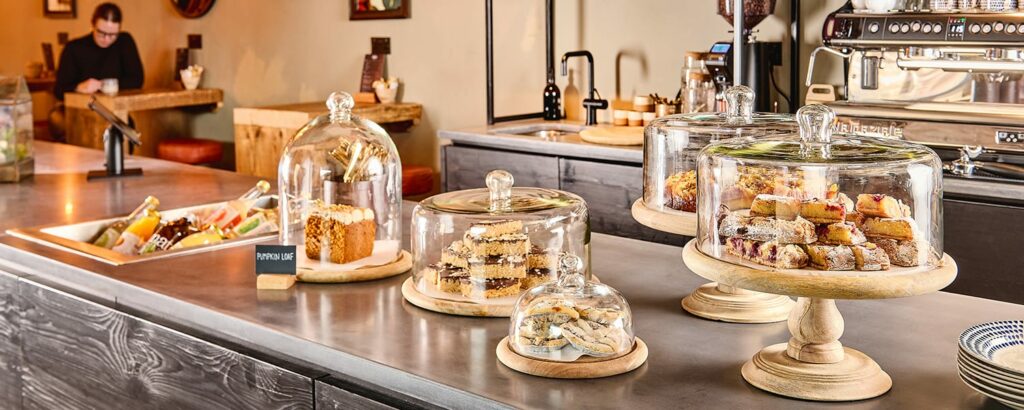 Visit Nkuku Life Style Store
If you are coming to Devon this spring or summer, do pop Nkuku Lifestyle Store on your list of places to visit. Plan your trip around a light snack or lunch. You'll love it.
The cafe has been full refurbished and extended, leading out onto the courtyard, so you can enjoy the warmer weather. There is plenty of space both inside and outside for dining or simply sipping a coffee or iced tea.
The new food menu celebrates the very best of local and seasonal produce working with artisan bakers, farmers and cheesemakers throughout the south west of England.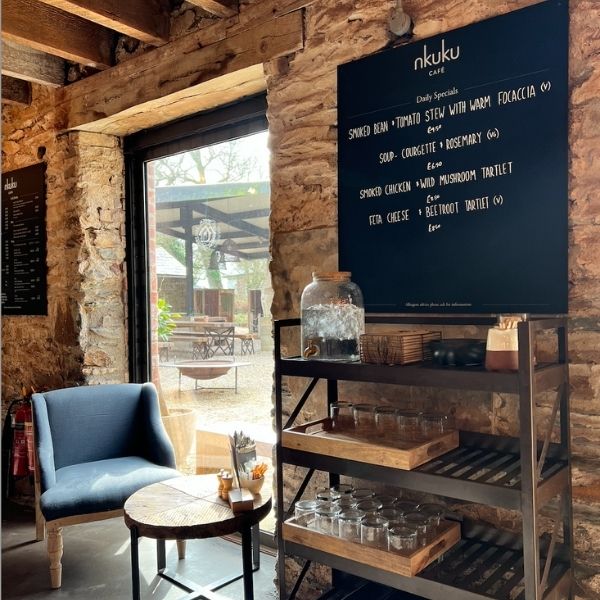 Nkuku's suppliers are handpicked to ensure they are supporting local, independent producers who share their passion for sustainability.
The menu caters for vegan and vegetarian diets too. With soups to homemade warm tartlets served with dressed salad leaves and a specials.
Their sharing boards look absolutely delicious with currently four choices from a selection of cheeses, charcuterie, cheese and charcuterie and a plant based board.
You really will be spoilt for choice, let's not even talk about the full range of homemade tasty treats!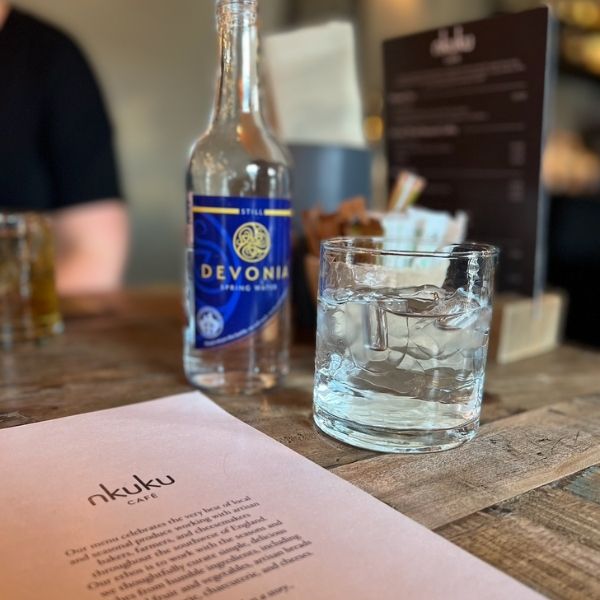 Whether you are local or visitor to our county, you'll certainly be greeted with a warm welcome.
Thank you Helen and all the team at Nkuku for a wonderful visit. It was, as always, a delight to see you.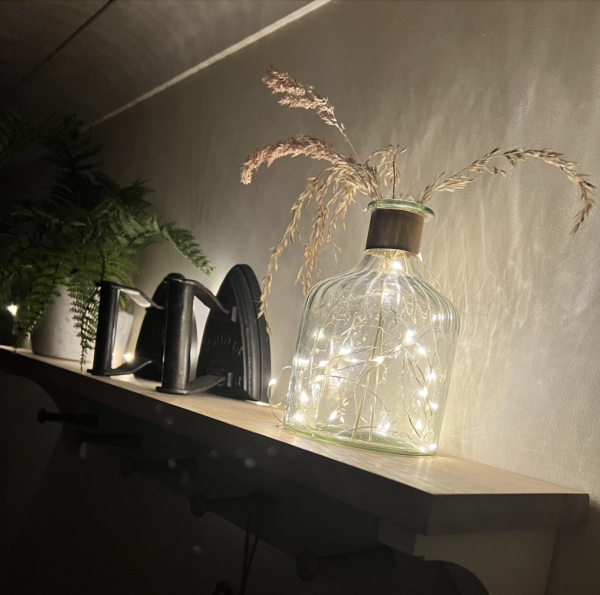 I could truly sit here all day!
I hope the blog has given you an insight into this stunning Lifestyle Store which I'm delighted to say is on my doorstep and that the mood boards have inspired you.
Do let me know in the comments.
Best wishes