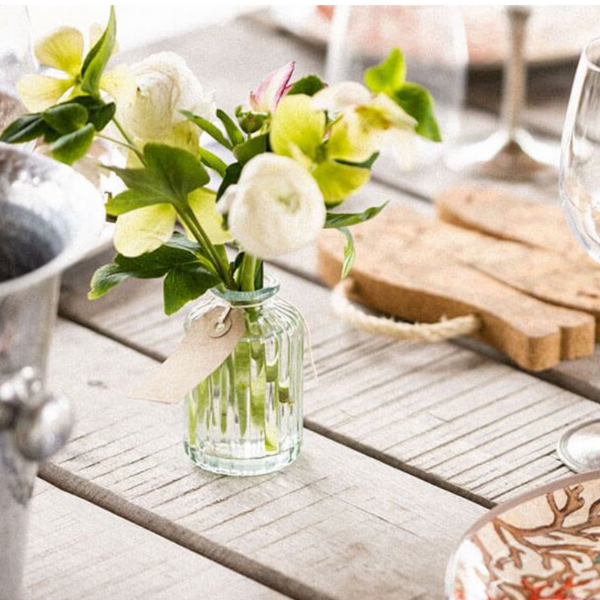 It's half term here in the UK and for many of us, we will be reuniting with friends and family that we've not seen for months and months. Hurrah for now being able to hug and eat inside again! With that in mind, this blog features recipes of some of my favourite new finds and recipes I've rediscovered from not being able to entertain in so long.
As I've shared in previous blogs, when you're entertaining, the joy is all about seeing friends and family and not spending time slaving away in the kitchen. I'm a big lover of preparing in advance so that I can spend the maximum amount of time outside. Although if you saw my post on Instagram this week, I wouldn't need to worry so much. How fabulous is this space?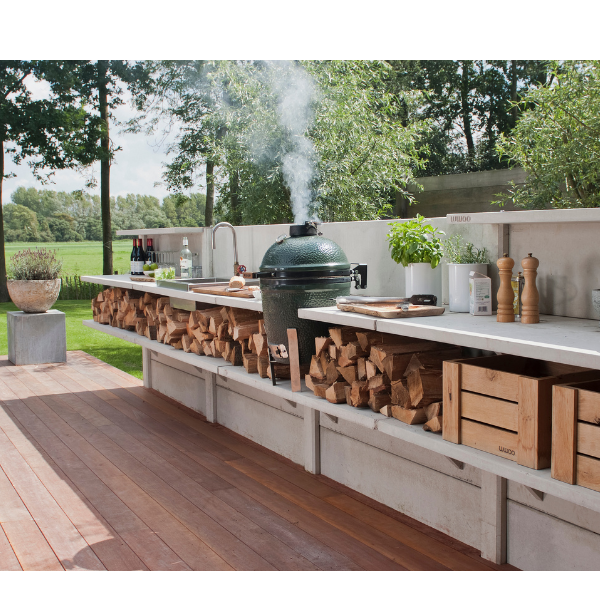 So without further ado, let's get excited about entertaining our guests. When we think of barbecues, we often think of sausages and burgers, or did until companies such as Big Green Egg started creating more and more effective and creative ways to cook outside. (For full transparency, not a sponsored post at all, but you know I'll rave about things I love. My local butchers have been raving about the Eggs since they were first on the market.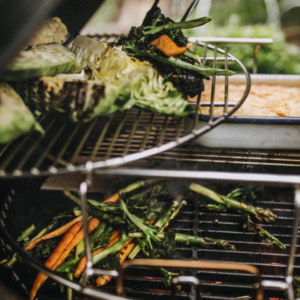 "Grilling meat, fish and vegetables to achieve incredible flavour and texture is what cooking over fire is all about."

Big Green Egg
Fish Skewers (serves 4)
It's hard to beat these fragrant fish skewers. Marinated in lemon juice, garlic and green herbs, these succulent cod, salmon and king prawn kebabs taste incredible served straight off the grill. 10 mins to prepare and 10 mins to cook, plus marinating. Recipe source Tesco.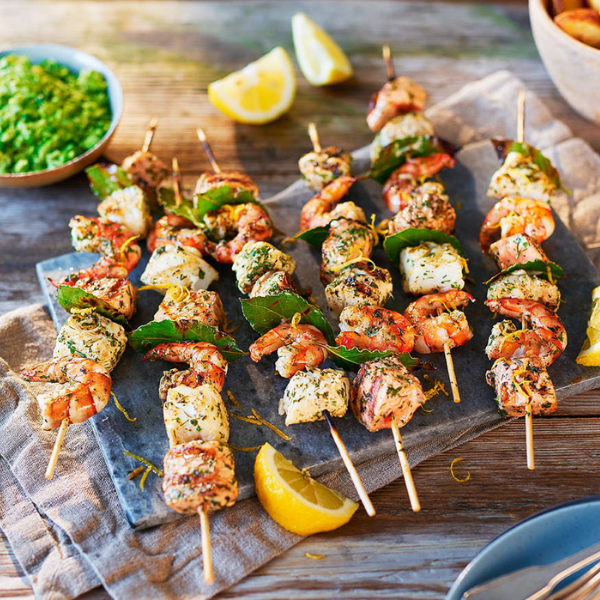 Ingredients
2 tbsp olive oil
2 lemons, 1 juiced and zested, 1 cut into wedges, to serve
2 garlic cloves, finely grated
handful dill, finely chopped
handful flat-leaf parsley, finely chopped
400g (14oz) boneless, skinless cod loin, cut into 16 chunks
400g (14oz) boneless and skinless salmon, cut into 16 chunks
16 raw king prawns
16 bay leaves
Method

Soak 4 wooden skewers in water, so they won't burn on the barbecue. Preheat the barbecue.

In a large bowl, mix together the olive oil, lemon juice, garlic, dill and parsley. Stir in the cod, salmon and prawns, season and put in the fridge to marinate for 1 hour.

Thread 2 pieces of cod, 2 pieces of salmon, 2 prawns and 2 bay leaves onto each skewer. Cook on the barbecue for 8-10 minutes, turning regularly, or until the fish and prawns are cooked through.

Scatter over the lemon zest and serve with the lemon wedges.
Steak, cooked to perfection, the Big Green Egg way.
This recipe is from the lovely folk at The Big Green Egg. You may think why do I need a recipe to tell me how to cook steaks? Well the chaps at The Big Green Egg know a thing or two about cooking on BBQ's so I'm sharing their old fashioned method. Not only do I think you'll love it, but you'll end up with mouth watering, restaurant quality grill marks and a consistent cook. This method is super, not just for steaks but for pork chops, lamb cutlets or most other cuts of beef too.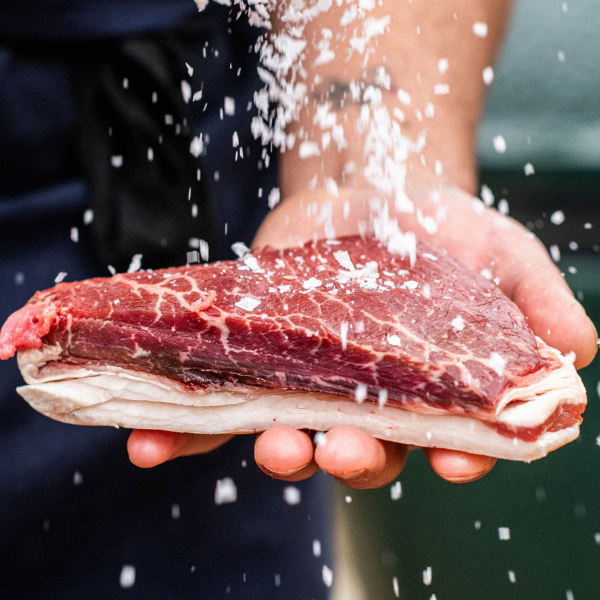 Remove your steak from the fridge and let it come to room temperature. Pat dry with a kitchen towel.

Don't remove any excess fat from the steak. Fat carries flavour into the meat whilst cooking. You can always remove it afterwards.

Season the steaks with a generous amount of salt on both sides. Don't use the black pepper at this stage as it burns and turns bitter at high temperatures.

Lay them down and leave them to develop clearly defined searing marks.

How quickly you turn your steak depends on the thickness of the steak and how well you like it cooked. An inch-thick steak cooked medium will need turning after about 3 minutes.

Turn the steaks, this time preferably moving them to a different area of the grid. This ensures that you are placing the uncooked side of the steak onto a freshly hot area of the grid.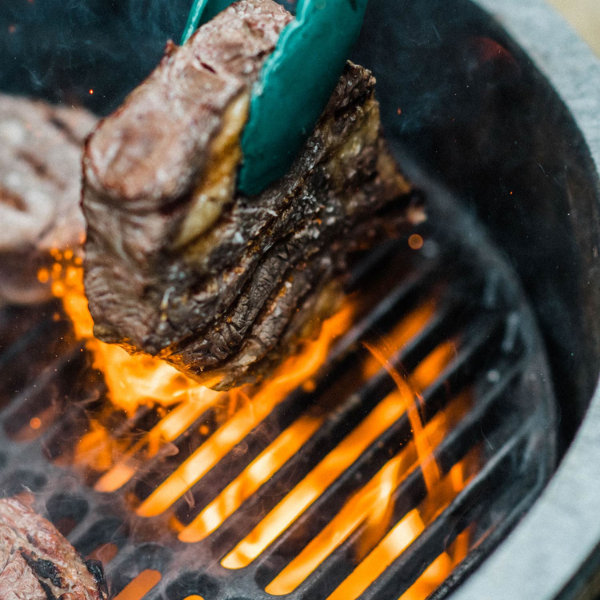 After a further 2 minutes, perform a touch test. Touch your hand where the base of your thumb joins to the fleshy part of your palm, in 3 positions, to compare to the touch of the steak. Your palm relaxed and open signifies the loose resistance of touching a rare steak. Gently close your palm and the base of your thumb joining your palm will be firmer. Tightly close your fist and this area will become tighter still, representing a well cooked steak.

Remove from the grill and let rest, season with cracked black pepper. They are delicious as they are but you could always add a dab of garlic butter. Serve with your favourite sides.
"Obviously, everyone's different, but I love just settling down and having a barbecue with my friends at the house."

Harry kane
Honeyed Mediterranean Vegetables With Spiced Yoghurt Dressing. (Serves 4)
An easy vegetarian grill or barbecue dish, served with pittas. This recipe is from Waitrose and is so simple and full of flavour. Just 10 minutes to prepare and 20 minutes to cook.
.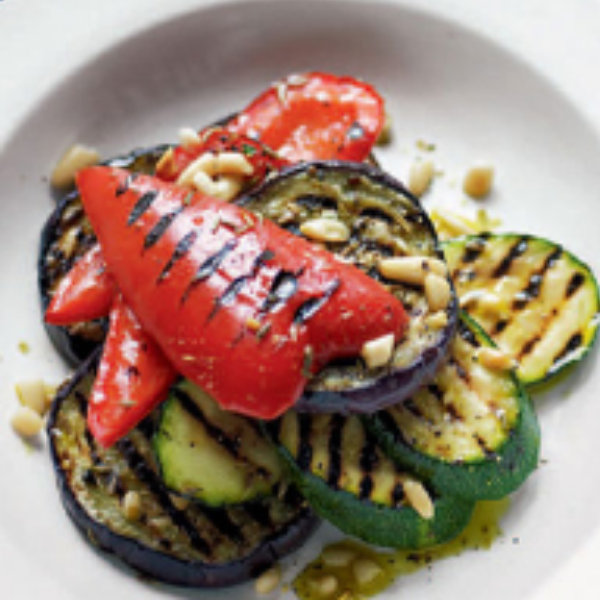 Ingredients
1 red pepper, cored and cut into strips
1 aubergine, cut into 1cm slices
2 courgettes, cut into 1cm slices
3 tbsp olive oil
1 tbsp honey
1 tsp cumin seeds
1 tbsp toasted pine nuts
4 wholemeal pitta breads
100g natural yogurt
½ lemon, juice
1 tsp harissa paste
Method

Start the barbecue, if using, or preheat the oven grill to high. Toss the vegetables in 1 tbsp olive oil and, in 2 batches, barbecue over hot coals covered in a light layer of ash, or grill on a baking sheet, for 3–4 minutes each side, until charred and cooked through. Put in a large bowl.

Combine the honey, cumin seeds and remaining 2 tbsp olive oil, then toss into the grilled vegetables. Scatter with the pine nuts.

Barbecue or grill the pittas. Mix the yogurt, lemon juice and harissa to make a dressing. Serve with the vegetables and pittas.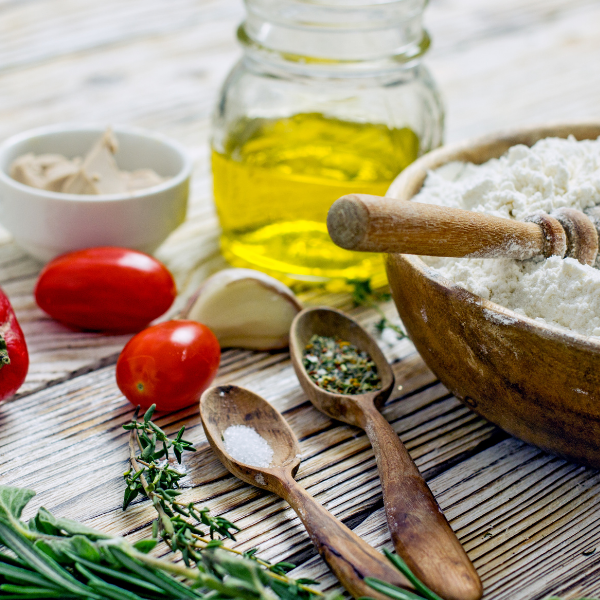 Summer Tomato Focaccia.
Not only is this bread super delicious, it looks so pretty too! It takes a little while to make – it's bread! But the results are so worth it! I wish I could remember where I found this recipe, feel free to adapt. Additions could be adding sliced red onions, garlic, you name it. I do however think you'll love this one for a summer barbecue.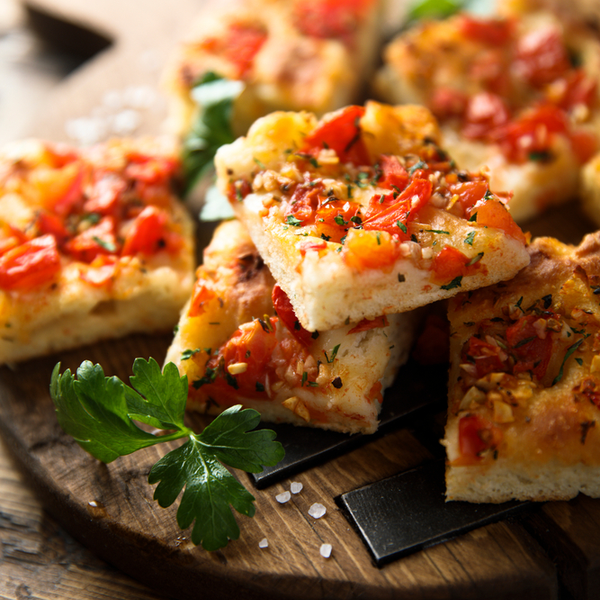 Ingredients
2 cups of warm water
2 tsp yeast
2 tsp table salt
4 cups bread flour
Olive Oil
2 fresh rosemary leaves – or 3 tbs
1 pint cherry tomatoes
Grated parmesan and sea salt for sprinking

Set the oven to 425f

Put the yeast in a large mixing bowl and pour in the warm water.

Add the salt and 2 cups of the flour, mix into a soft sticky dough. Add the remaining 2 cups of flour and mix well. (The dough will be sticky)Cover aqnd let it rise for 40 minutes in a warm place.

Press out the dough on a well oiled lined baking sheet. Using your fingers, ease it into a rectangle, approximately 9×13 inches, give or take.

Put the olive oil in a small bowl and dip your fingers into the oil and then all over the bread, poking the bread surface and leaving little pools ofm oil. Do this all over the bread. Don't skimp, this will result in great flavour after the bread is baked.

Arrange the tomatoes accross the top, pressing them into the dough slightly, then scatter the rosemary leaves evenly accross thew surface. Sprinkle sea salt over all and finally top off with a dusting of parmesan cheese.

Bake for 18-20 minutes until lightly golden.

The rosemary will crisp up in the oven, so you may wish to scatter some fresh leaves on top of the bread after baking to refresh the rosemary flavour and give it visual appeal.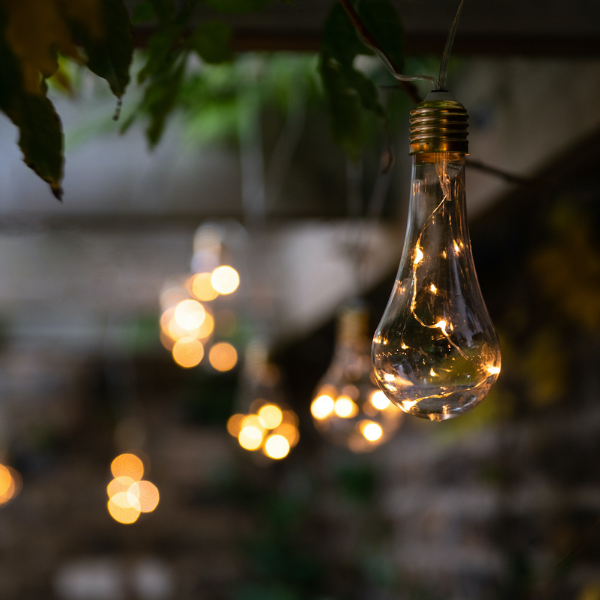 S'mores.
No barbecue is complete without at least one S'more. I was first introduced to this delicacy when working in America for a few months prior to my nurse training. It took toasting marshmallows around the campfire to a whole new level!
This is a recipe you can have real fun with. I suggest you play around with a variety of biscuits and chocolate – the variations are endless! Although Marks and Spencers All Butter Chocolate Chip Cookies are the gold star! (image below) Lindt chocolate with sea salt or chilli are also great additions to your S'mores menu! They aren't just for the children!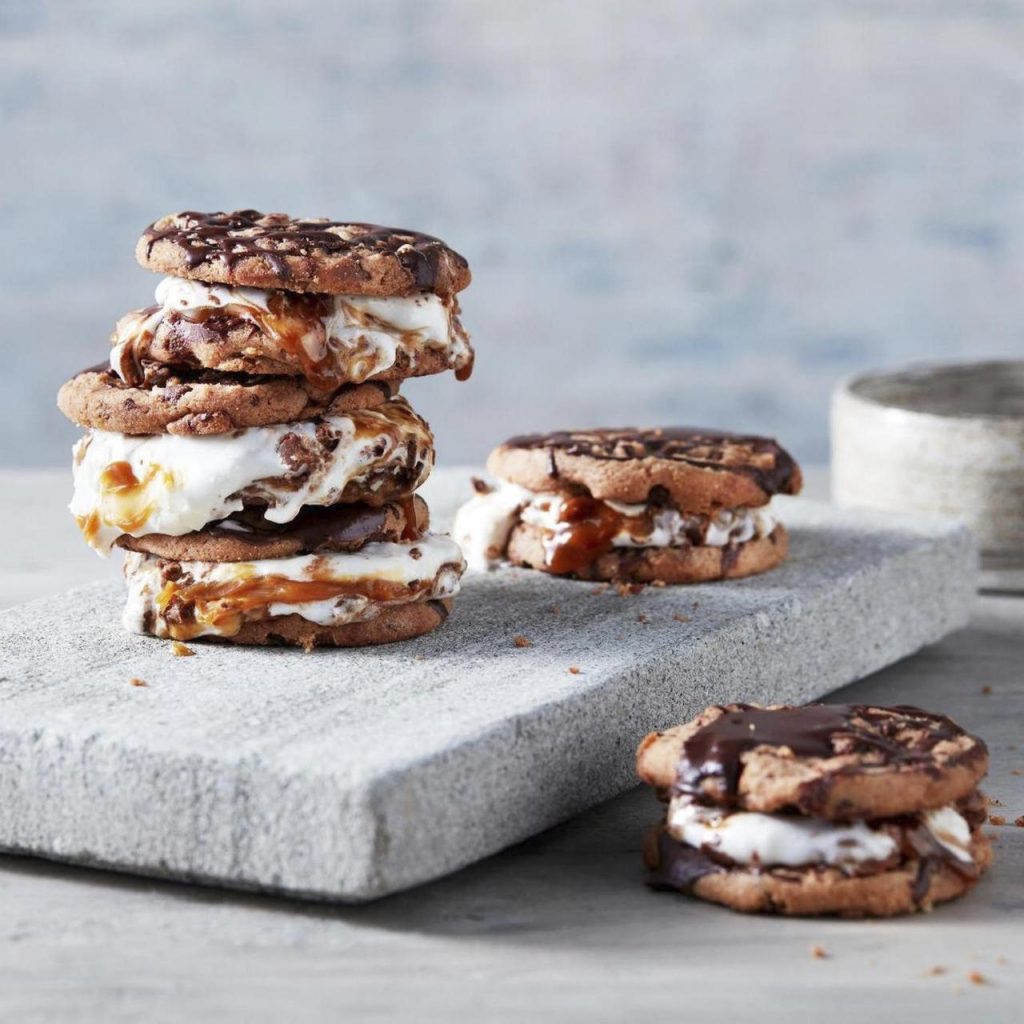 Ingredients.
Packet of digestive Biscuits
2 packets of marshmallows.
50-100g chocolate (dark or milk) melted if you wish.
Method

Toast your marshmallows over the BBQ until crunchier on the outside and gooey in the middle.

(On a rainy day, preheat the oven to 180C. Spread the marshmallows on a baking tray lined with greaseproof paper. Bake for 2-3 minutes, until golden and melting.)

Meanwhile, spread each cookie with the melted chocolate. (We often let the marshmallows do the melting so skip this bit!)

Spoon the toasted marshmallows onto cookies, then place the remaining cookies on top and squidge down to make a sandwich.
There is no real need for decorations when throwing a barbecue party – let the summer garden, in all its vibrant and luscious splendour, speak for itself.

Pippa Middleton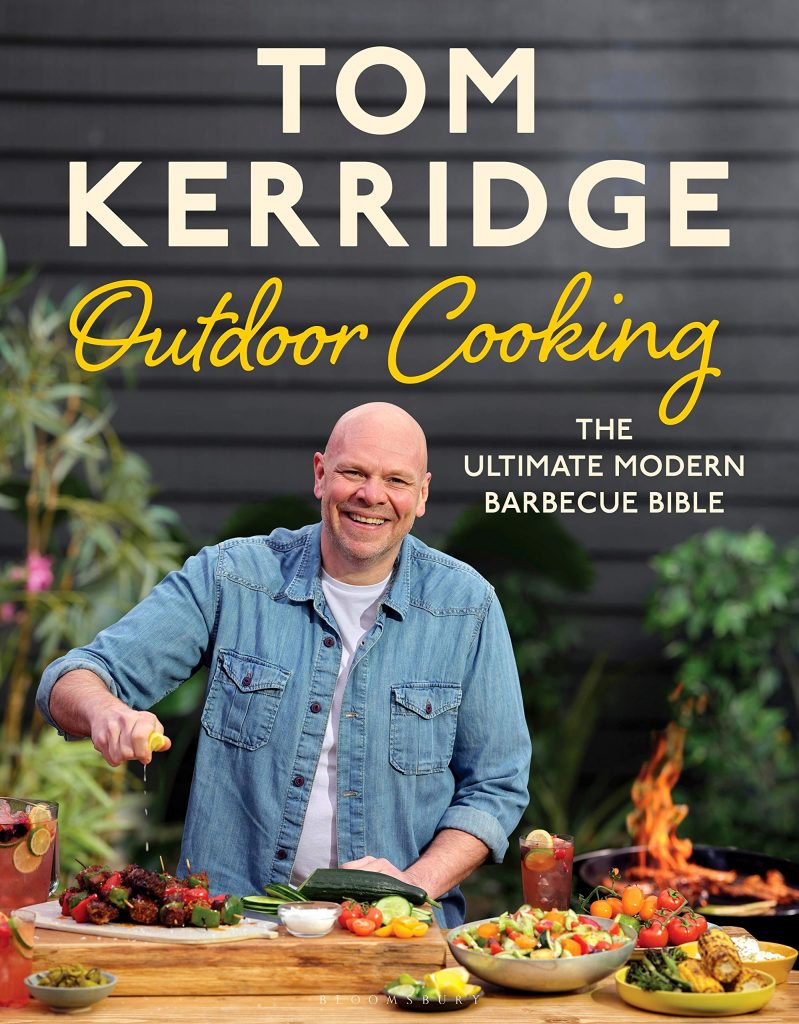 Further reading:
It's no secret that I love a good recipe book. A book I've put on my wishlist is the new, recently launched Tom Kerridge book; Outdoor Cooking it sounds fabulous.
"Chapters include hearty favourites like pork and chorizo burger, veggie mains like charred cauliflower salad, and shareable snacks like aubergine dips and flatbreads.
He also includes desserts and drinks, tips and advice for the perfect summer barbecue, campfire or outdoor gathering with friends and family."
Sounds great doesn't it?
I really hope these recipes have given you some food for thought, parden the pun! Do let me know which recipe (s) you like the idea of trying. Do share and let me know! Equally, I'd love to know your favourite recipe you'll be cooking this weekend.
Wishing you a super weekend wherever you are, may the sun shine!
Be happy and stay healthy,
Lots of love