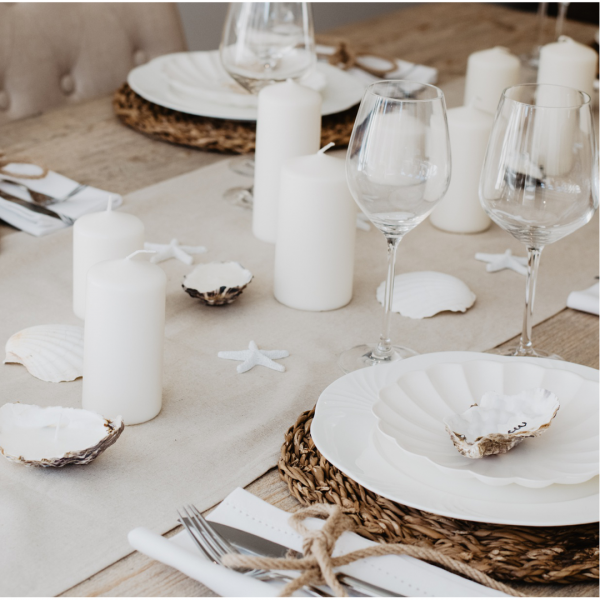 The UK is beginning to open up again after the Pandemic, hurrah! With thoughts of visiting friends and staycations in the air, this is the first of a series of blogs that will bring you the Best of the South West. I'm talking where to stay, where to eat and of course shopping! This blog is all about the food…!
Over the last year, we've all spent much more time at home and that of course involved more cooking and baking. (Will the poor banana bread now forever be linked to 2020 I wonder?) Having lived in South West Devon for the last 26 years, I've never felt more lucky to be near the coast and Dartmoor. It's been something we as a family have always treasured, but certainly now more than ever before.
I want to share some of that with you, although I've been warned by close friends not to share all the top restaurants and beaches! Some things have to remain a secret to us locals right?!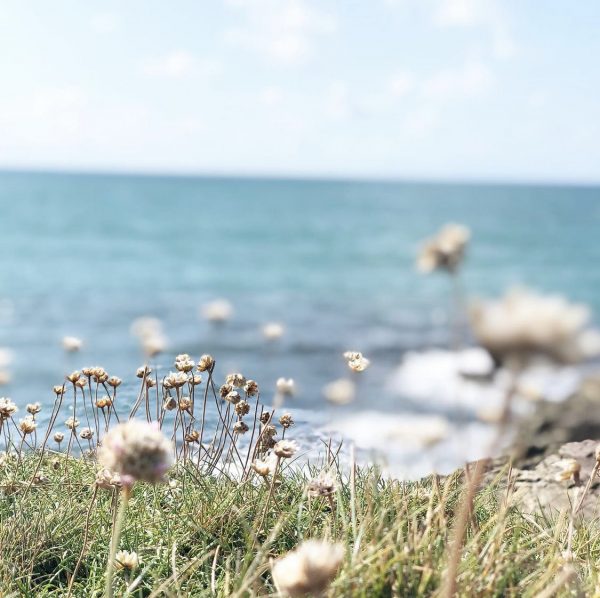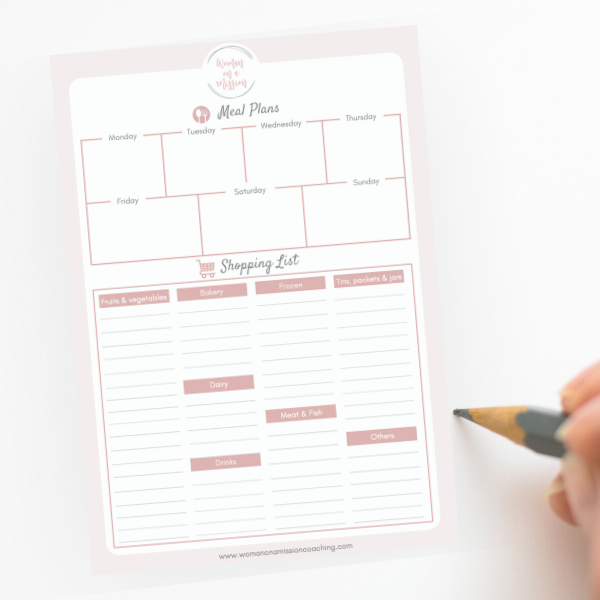 One thing you might need before continuing is to download my FREE menu planner, complete with shoping list. Having created it years ago for my clients, I would not do without it. Not only does it save me time but it saves me money too.
No more waste, just need to remind the family to check the board in the kitchen before they ask what's for supper!
There are numerous amazing chefs, all with fabulous establishments throiughout the South West and I wish I could share them all with you here. However, I've selected some of my absolute favourites and I hope you enjoy them as much as I do.
Classic Fish and Chips – Nathan Outlaw, Outlaws, Port Issac, Cornwall.
I couldn't share with you some delicious recipes from your South West chefs without sharing a classic fish and chip recipe now could I! Nathan Outlaw is one of the loveliest chaps you could ever meet and is known as perhaps Britain's best fish and seafood chef. He's also written several fantastic cookbooks, his latest one being "Restaurant Nathan Outlaw"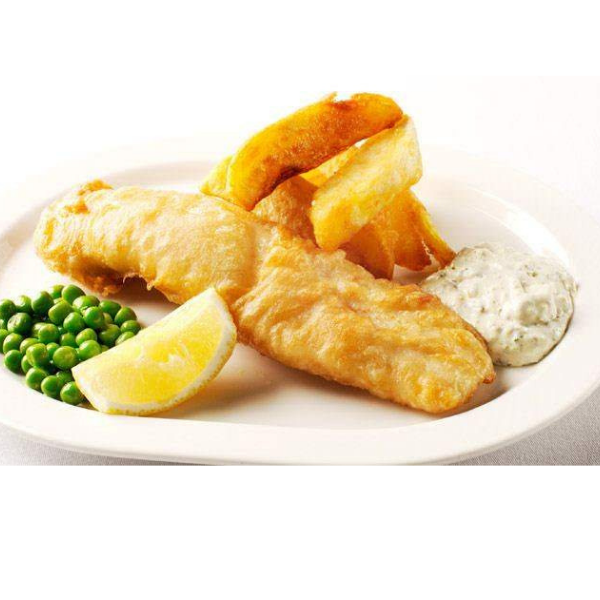 FISH 4 hake fillets, each weighing 130g
TARTARE SAUCE
1 tsp English mustard 1 tsp white wine vinegar
250ml of rapeseed oil 2 gherkins 3 egg yolks
1 tsp each of fresh tarragon, fresh chives, fresh chervil, fresh parsley, all chopped
2 tsp capers, chopped salt & pepper
BEER BATTER
350ml of ale. 230g of plain flour
15g of dried yeast. 1 tsp salt. 1 tsp sugar
CHIPS: 6 large Maris piper potatoes, salt, vegetable oil
TO PLATE: 100g of peas, boiled
Method

For the tartare sauce, start by making the mayonnaise. Whisk the egg yolk, vinegar and mustard together in a bowl until well combined. Slowly add the rapeseed oil in a steady stream while continuing to whisk until emulsified

Finely dice the gherkins and add to the mayonnaise along with the capers and chopped herbs. Taste and adjust the seasoning with salt and pepper as necessary. Store in the fridge until ready to serve.

For the beer batter, combine the flour, yeast, salt, sugar and beer. Whisk together to form a smooth mixture and leave in a warm place for 10 minutes to activate the yeast and develop the flavour. Move to a cooler place until ready for frying.

To start the chips, peel the potatoes, then cut into large chips. Put them in a saucepan, cover with cold water and bring to the boil. Cook until still slightly raw in the centre, strain and cool.

Heat some vegetable oil in a deep-fat fryer to 180˚C ready to cook the fish and chips. Once the fryer has come up to temperature, add the chips to the fryer basket and drop into the hot oil. Cook until golden brown, remove from the fryer and allow all the oil to drip off. Place in a bowl and season generously with salt.

To cook the fish, mix the beer batter again to ensure it is smooth. Drag each fillet of hake through the mixture to evenly coat and drop into the fryer. Cook for 6-8 minutes until golden brown. Always drop items into the fryer away from the body so the oil does not splash back.

To serve, place the fish on top of the chips and serve with peas and a healthy dollop of tartare sauce.
Aubergine and Tomato Gratin – Hugh Fearnley- Whittingstall, River Cottage.
Serve this hearty bake with a green salad on the side, or precede it with a delicious raw dish, such as fennel, melon and basil. Serves 4.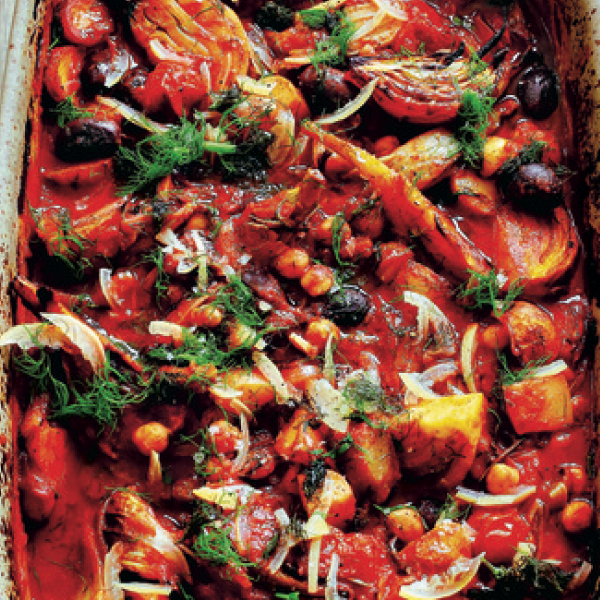 2 fairly large aubergines (about 700g in total), trimmed
4 tbsp olive oil, plus a little extra to finish
A small bunch of basil (25g), leaves picked from the stems and -roughly torn
4–5 sprigs of thyme, leaves picked from the stems
30g flaked almonds
For the tomato sauce
2 x 400g tins tomatoes, 3 garlic cloves, sliced, 75g cashew nuts, 1 tbsp olive oil, 2 bay leaves, a pinch of sugar
Method

To make the sauce (which you can do ahead), put the tomatoes into a medium saucepan. If you're using whole plum tomatoes, crush them in your hands as you add them, removing any stalky end bits. Add the garlic, cashews, oil, bay leaves and a little salt and pepper. Bring to a simmer and cook, uncovered, for about 20 minutes, stirring regularly.

Remove the bay leaves. Add the sugar and blitz to a purée, using a stick blender or a jug blender. Stir in about 50ml water to thin the purée to the texture of lightly whipped cream. Taste and adjust the seasoning. (If making ahead, cool then refrigerate; reheat gently before using.)

Preheat the oven to 180°C/Fan 160°C/Gas 4. Cut the aubergines lengthways into 5mm thick slices. Heat up a griddle pan (or a barbecue) or preheat your grill. Measure 4 tbsp olive oil into a small bowl and use to brush the aubergine slices on both sides. Griddle or grill the aubergine slices, in batches if necessary, for 2–3 minutes each side, until tender and marked with brown patches or grill stripes, seasoning with salt and pepper as you go.

Layer one third of the aubergine slices over the base of an oven dish (about 2 litre capacity). Scatter over one third of the basil and thyme leaves. Dollop one-third of the tomato sauce over the top and carefully spread it out over the aubergines. Repeat until you have used up all the aubergines, herbs and sauce. Scatter over the flaked almonds and add a final trickle of oil.

Bake in the oven for 30–35 minutes, until bubbling and lightly coloured on top. Let it stand for 10–15 minutes before serving.
"An awful lot of people have childhood memories of holidays in Cornwall, and the holidays are old-fashioned and hugely successful. You stick a child and a dog on one of the beaches, and they just light up; they just love it."


Martin Clunes
Crab Linguine, Jude Kereama from Kota Collective, Porthleven, Cornwall
This recipe for crab linguine is an easy pasta dish and makes great use of white and brown crabmeat. Serve with a rocket salad and a glass of perfectly chilled white wine.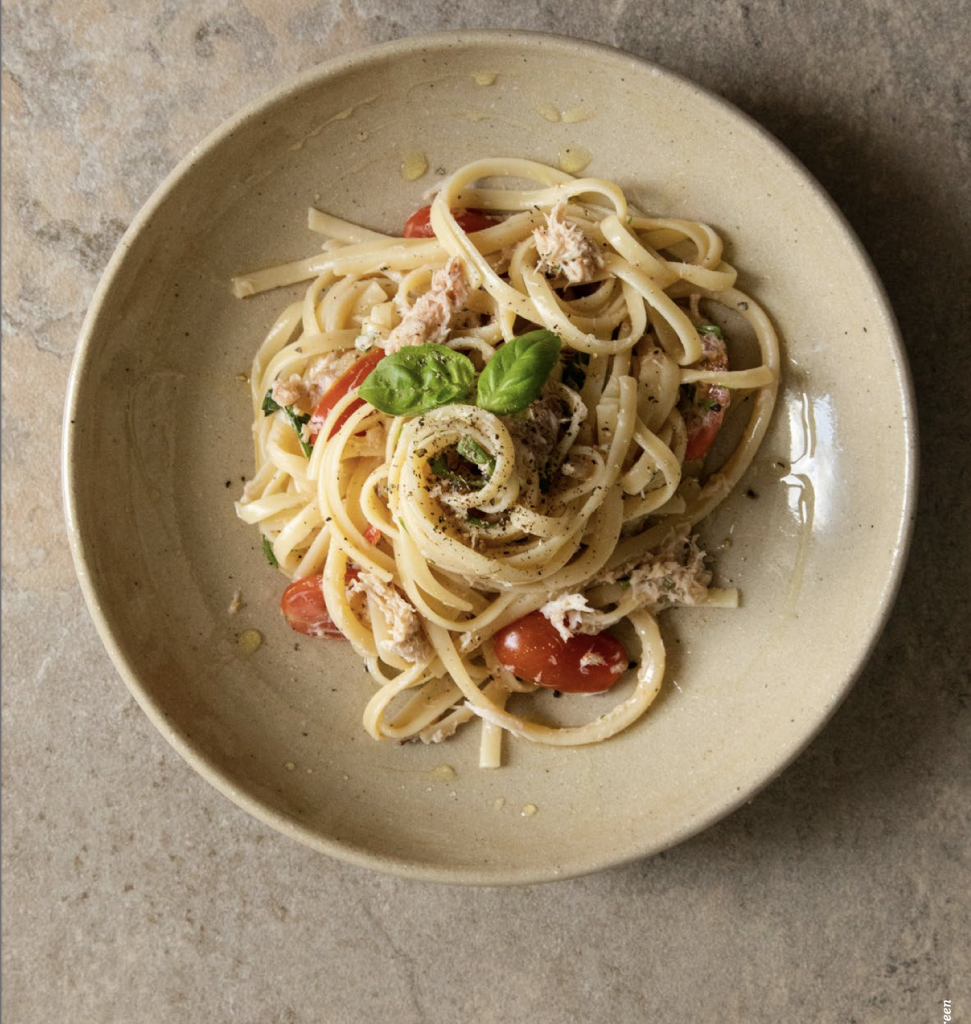 500g linguine
Extra Virgin olive oil
4 cloves garlic, sliced
1 1⁄2 red chilli, de-seeded & finely diced
100ml dry white wine
2 tbsp chopped Italian parsley
2 tbsp chopped basil
2 tbsp chopped chives
24 cherry tomatoes cut in half
300g white crab meat
100g brown crab meat
2 tbsp crème fraiche
Juice & zest of 1 lemon
Cornish sea salt & black pepper mill
Method

Cook the linguine in a pot of boiling salted water.

Mix the brown crab meat and crème fraiche until smooth. Reserve.

Add olive oil, garlic, and chilli into a saucepan. Cook until just toasted then add the white wine. Reduce white wine until the wine has reduced by around two thirds.

Add the tomatoes. Add the cooked linguine and reserve a bit of pasta water to adjust the consistency of the sauce.

Stir in both crab meats, herbs, lemon juice, lemon zest and season with salt and pepper. Add a drizzle of Extra Virgin olive oil.

Serve immediately with rocket salad dressed with Cornish sea salt, lemon juice and Extra Virgin olive oil.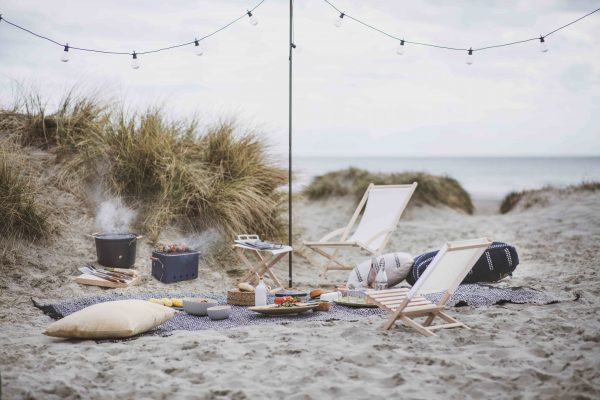 Barbecued marinated chicken breast with lime, coriander, ginger and chilli – Michael Caine MBE, Lympstone Manor, Exmouth.
One of THE most inspirational chefs, in my opinion! Michael Caines back story is incredible, not to mention his restaurants and food.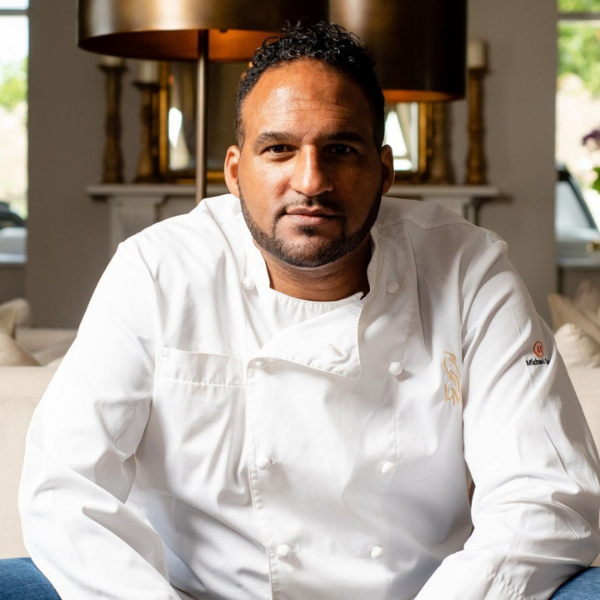 Imagine cooking this dish on the beach with your family and friends after a long day in the surf?
Ingredients
small bunch fresh coriander, chopped
100ml/3½fl oz olive oil
2 limes, zest of one only and juice of both
20g/¾oz grated ginger
2 garlic cloves, crushed
1 fresh chilli, chopped
smoked cayenne pepper, to taste (if unavailable, substitute smoked hot paprika)
4 chicken breasts
Method

For the marinade, place the chopped coriander, olive oil, lime zest and juice, ginger, garlic and chili into a bowl.

Season, to taste, with cayenne pepper and whisk thoroughly.

Place the chicken breasts into a deep dish. Pour the marinade over the chicken, covering completely. Cover the dish and leave the chicken to marinate for three hours.

Preheat the barbecue until the coals are white hot.

Place the chicken breasts on the barbecue and cook for 15-25 minutes, or until cooked all the way through, turning occasionally.
"My best holidays were in Devon and Cornwall when the children were growing up. We always used to stay on farms because our children were pretty wild, and it was great going to the beach every day. We used to go to Launceston and Salcombe and all over those two counties."

Mary Berry
Raspberry & Almond Brownies – Chris Eden from Gidleigh Park, Chagford, Devon
If you follow me on Instagram, you'll know I'm a lover of chocolate and brownies, so really couldn't not include these!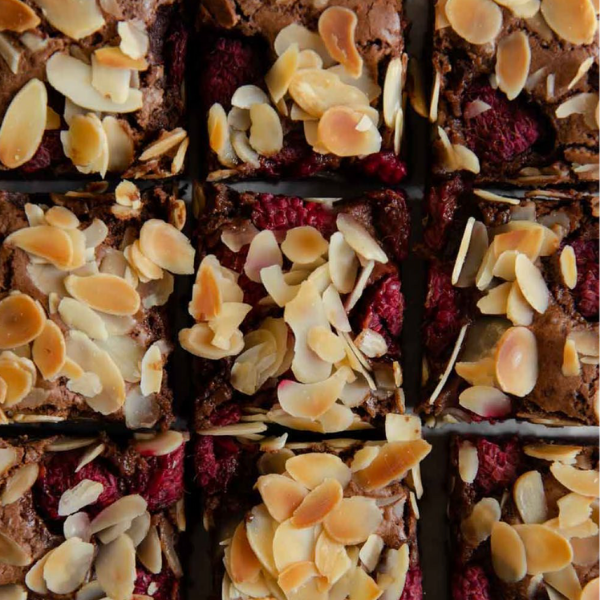 Serves 12
110g dark chocolate
110g unsalted butter
150g dark brown sugar
150g caster sugar
2 eggs
125g flour
1⁄2 tsp salt
125g raspberries
50g flaked almonds

Preheat the oven to 160°c.

Melt the butter and chocolate in a bowl over hot water, being careful not to overheat.

Add the sugars and allow to sit for a moment before whisking in, off the heat.

Add in the egg followed by the flour and salt and mix well.

Pour into a lined tin and sprinkle with the raspberries and flaked almonds.

Cook in the centre of the oven for 30-45 mins depending on how you like your brownies; in our house we like them quite goey so the 'stick coming out clean method' doesn't apply here!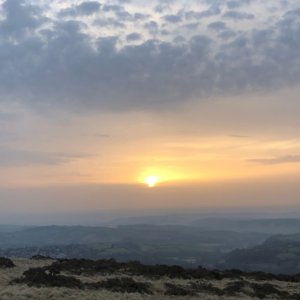 There's something quite magical about being on Dartmoor at sunrise, although I might have to
switch the breakfast cookies for Chris Eden's Brownies!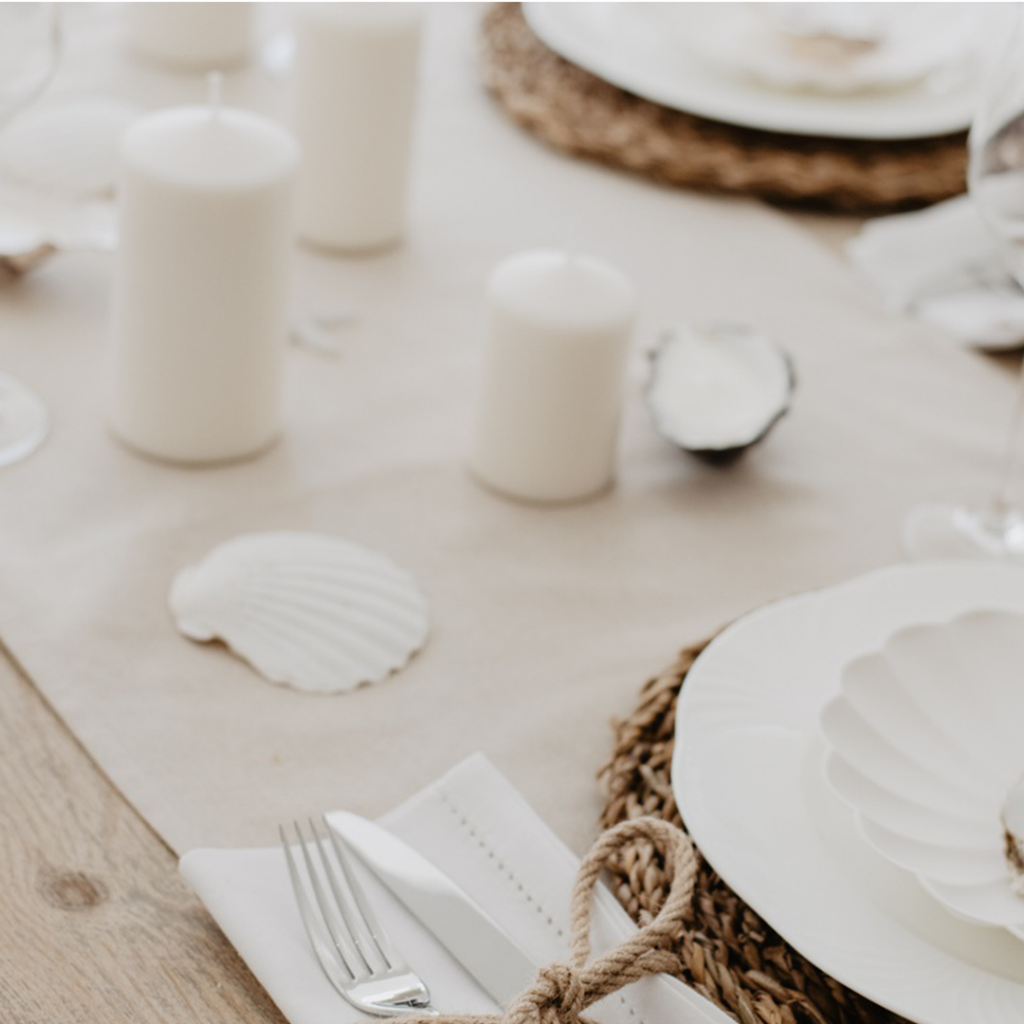 Is this setting beautiful? It's from a new start up brand called The Table Stylist. A selection of curated boxes designed to make your table look stunning whatever the occasion. Nothing soothes the soul quite like being by the sea, but with holidays uncertain this year you can at least bring the beach to you with this seaside tablescape. Each setting includes a sea grass place mat, scalloped bamboo side plate and white cotton hemstitched napkins with twisted rope napkin ties to add some rustic, coastal charm. Perfect for your staycation don't you think?
The Comfort Cookbook
I want to share with you this very special Cookbook that I'm totally in love with for many reasons. The story behind how it came to be, the fabulous recipes and that something really special came out of the pandemic.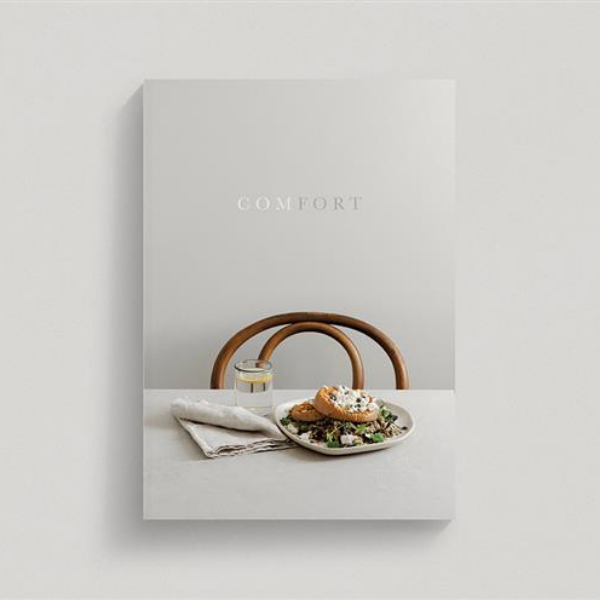 The best of the South West chefs, food and drink producers and industry insiders came together to create a truly special digital cookbook. The Comfort Cookbook is a snapshot of the unique and diverse food and drink culture that's nurtured here in the West Country, and the rich network of chefs, producers and pioneering entrepreneurs which together make the South West a world-class gourmet destination.
Just a few of the chefs involved include Nathan Outlaw, Jude Kereama, River Cottage, Mitch Tonks, Michael Caines, Paul Ainsworth, Ben Tunnicliffe, Mark Dodson, Mick Smith, Ben Prior, Emily Scott, Elly Wentworth, Tia Tamblyn, Philleigh Way Cookery School & Daaku.
Everyone involved in this project gave their time and expertise free of charge, so that all funds will go directly to the Hospitality Action Covid19 Emergency Appeal. Rather than buying a copy, you're invited to pledge on a 'pay what you can afford' basis. Why? Well, everyone involved want this book to be available to everyone in this time of financial hardship. To those that can give more, please pledge generously to support people in the industry who have lost their livelihoods. Once you have pledged, you can read your copy online or download a PDF of the book:
Wouldn't it be amazing if we could help this incredible project raise some money?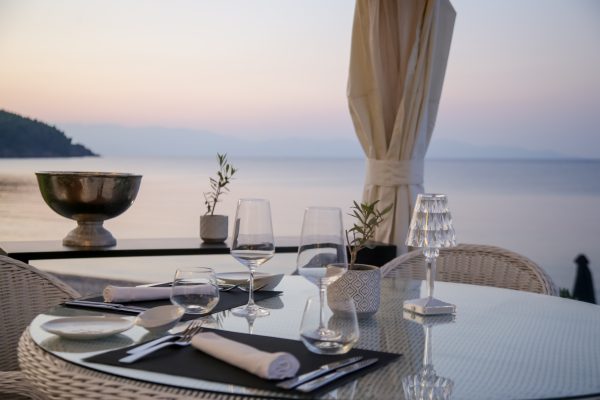 As ever, I do hope you've enjoyed this blog and will have fun recreating these recipes from the best of the South West chefs. We really are very lucky here in this poart of the world. Please do make sure you donate to The Comfort Cookbook Comfort Cookbook and support the Hospitality Action Covid19 Emergency Appeal in anyway you can.
For now, let me know what you're up to this weekend. Do let me known your favourite place to visit in the South West, you never know, it might just feature in the forthcoming blogs; Best of the South West!
Wishing you happiest of Bank Holiday Weekends, wherever you are.
Be happy and healthy,