It can often be our minds that hold us back from doing what we want or ought to be doing.
Fatigue, overwork, anxiety or just plain "I cannot be botheredness" are all reasons that people use not to get up and go and yet if they could just get over that initial step into a healthier, more active way of life the benefits could be phenomenal not only physically but mentally too.
There is an obvious and well recognised connection between improvement in mood and the state of someone's mental health when they begin a more active way of life. We know it's good for the body, but people forget it's good for the mind too.
It's been proven that regular exercise can have a profound effect on things such as depression, anxiety, ADHD and more. Exercise can provide an outlet, help to relieve stress, improve memory, aid in a better night's sleep and just generally make you feel better.
This does NOT mean that anyone wanting to improve their mental health and well-being needs to go and hit the gym hard and never leave because even modest amounts of exercise can make a difference no matter your level of fitness or your age.
Yes, exercise can make you physically fit and a great body but surprisingly this isn't the main reason people choose to exercise. It is actually because it gives an enormous sense of well-being. They feel more energetic throughout the day, sleep better at night, a sharper memory and makes them feel more positive about themselves.
Exercise is also a powerful depression fighter for many reasons, foremost of which is that it promotes all kinds of changes within the brain including neural growth, reduced inflammation and this new activity can promote feelings of calm and well-being.
When it comes to anxiety, exercise relieves tension and stress, boosts mental and physical energy and increases well-being through the release of endorphins. Exercise is especially effective against anxiety when combined with focus and mindfulness e.g. focus on your foot hitting the ground or the rhythm of your breathing – this will also help improve your exercising technique too.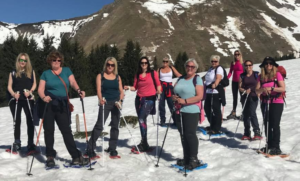 Wondering how much you have to do to have any kind of effect?
Well the answer is that any activity, even a little bit is better than nothing at all. It can seem really intimidating to begin with, especially if it's something you have never done before but starting small and working your way up is the best way forward.
Start with 5 minutes or whatever your body allows you to do before begging for a break. If you don't think you can do it alone then keep in contact me and let me know how you get on or join me on instagram and comment, accountability is everything!
If for now, the thought of meeting new people AND beginning this new way of life is all too much, there are online courses available including our own as well as at home videos available on places like YouTube which area great place to start.
The first step is the most difficult, but it's all down hill from there.