Did you? Step on them? You know – the naughty step..?
I wonder if this year you have decided enough is enough? This is THE year you are going to make it happen?
Your clothes are feeling a little snug and you want to lose of few pounds or ten?
Usually after a big period of having fun – maybe a holiday, Christmas, relaxing a little ..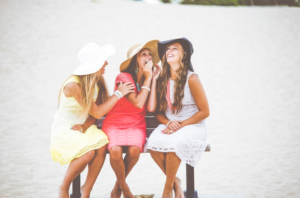 Incidentally did you know that last summer, us Brits spent more money in the supermarkets on food and alcohol than ever before and they believe it's down to the gloriously, long, hot sunny days – we wanted to socialise more..
We had more BBQ's, sat in the garden drinking more wine and generally enjoyed the fabulous weather.. and so consequently spent more money …
I'm betting your bottom dollar that waistlines for some of us increased too..
Each Christmas, the average brit put on 10lbs…. We feel rubbish..
So what do we do – step on the scales! Why do we do it to ourselves….?
We KNOW it's just going to make or break the mood.
If that magic number is lower than you want it to be – then yay! Have a cake to celebrate!
If that magic number is higher than you want it to be – then the low mood appears from nowhere and sod it – you'll reach for cake to commiserate!
Either way.. it's a no win situation and you're just stuck on the numbers.
The thing is that the number on the scales doesn't tell you how things really are – it merely tells you what is going on in that moment.
It doesn't tell you how hydrated or dehydrated you are..?
It doesn't take into account your hormones or if you are due your period.
It doesn't tell you how strong you are ..
How brave, funny, beautiful, clever and kind you are..
Those darn scales doesn't even take into account that you might need to go to the loo – if you know what I mean!
No..
it merely tells you what is going on in that moment of time.
" Scales are for fish" – you'll here me regularly say that to my clients! I recommend you use a trusty ole tape measure and trust how you feel in your clothes as a better guide.
Measure your chest, waist, hips and each thigh at regular intervals (weekly or twice a month) and make sound changes to your nutrition.
Step away from that naughty step.. and start being kind to yourself.
If you are wanting to feel better in your clothes – take action.

Get some good sleep – aim for between 7-8hrs a night

Watch the stress levels – try and keep that stress bucket to a minimum level

Avoid processed foods – sugar, ready meals and so on

Be good to yourself! i know it sounds a bit woowoo but if you are permenantly speak to yourself as your worst enemy that won't help. What are you going to do for you today? x

Water – ditch the caffiene – not necessarily every last cup but make sure you are drinking more water than tea!

Be accountable – do what you say you are going to do…
We all know what we should be doing but if you are not accountable, relying on the scales (which may actually be lying to you)  will just end up feeling miserable..
There are some beautiful places to sit so take yourself away from that naughty step and take that small step to taking a fresher look about getting into the shape that makes you happy..
if you'd like to talk about your struggles with feeling better in your clothes and want some direction in how to get started with taking some control to create a more healthy lifestyle,  then do get in touch.
Have a fabulous day,