How has your week shaping up?
We have cruised right through Autumn and we are now deep into Winter. Hands up if you've dusted off the slow cooker??
I don't know about you but that in itself makes me feel more organised!
Today I'm sharing with you a super easy and yet tasty slow cooker recipe..
A perfect winter warmer for blustery, wet days just like today.
We're off over the moor to swim training later so this will be super before we head off – it smells amazing as it cooks.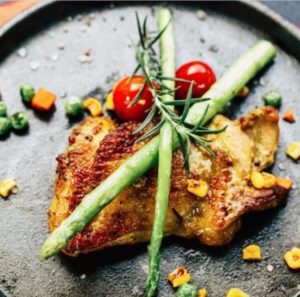 Slow cooker lemon and garlic chicken
Ingredients
4 lemons
2-3 heads of garlic
1 whole chicken 4 to 5 pounds
Fresh rosemary, or any fresh herbs
Seasoning of salt and pepper
Method
Cut garlic heads and lemons in half and lay in bottom of slow cooker.
Cut the bottoms off the lemons so they lay flat.
Add a sprig of rosemary, or any herbs.
Remove insides from chicken, rinse chicken and pat dry.
Season chicken well, inside and out, with salt and pepper.
Lay chicken on top of garlic and lemon slices and stuff the chicken with a garlic head cut in half, and a lemon cut in quarters.
Cover top of chicken with additional lemon slices and rosemary.
Turn slow cooker to high, and cook for about 4 hours, or until chicken reaches 165 degrees.
Slow cooker cooking times vary.
Important: Use a meat thermometer to check for "doneness" (technical term!)
When chicken has reached 165, turn off slow cooker and let chicken rest for about 15 minutes.
Remove from slow cooker, carve and serve.
Liquid from slow cooker can be strained and served over chicken if you wish..
Serve with sweet potato jackets or rice and freshly steamed green vegetables.
Or on warmer days, serve with asparagus and a leafy green salad.
Super simple and fuss free!
I really hope you and your family and friends enjoy this one.
Let me know. I'd love to know your favourite slow cooker recipe too.