Why do you think you are not losing weight?
A lot of the time, people will say that the reason they aren't losing weight for their diet is not working is because they simply don't have the time.
A lot less care and attention is needed when you don't think about what you are putting into your body. However, in the end, it does catch up with us and sooner or later we do need to stop, take a step back and pay a little more attention to self-care.
Now, whilst Breakfast is the most important meal of the day, lunch is no different as this is what is going to fuel you on and push you for the remainder of your day so it needs to be packed full of goodness.
Being very aware of how busy everyone is, it's always great to have lunches you can prepare in advance the night before or even ones you can prepare all at once, at the beginning of the week to see you through. Or alternatively those that don't take long to put together at all.
So here's a list of 5 great lunches to see you through the long working week;
Lebanese Lemon-Parsley Bean Salad
This bean salad will be packed full of nutrition and give you a great boost of energy. Combine it with some hummus and you'll feel like you've popped over to the Mediterranean for lunch rather than your workspace.
Thai Tuna Salad
We all know the goodness that can come from eating a healthy amount of fish – protein and omega 3 for days. Combined with the Asian flavours of this light salad, it will fill you up but not sit heavily in your stomach all afternoon until you move and walk it off.vegan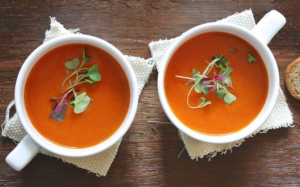 Roasted Tomato Soup
Soup doesn't have to just be for winter as they are a great way of compacting a whole lot of goodness into just one bowl. Again this is a light way to fill you up for the afternoon as well as helping you to reach your 5-a-day.
Miso brown rice & broccoli salad with fiery prawns
Rice makes this lunch dish a pretty substantial meal and nutritious dish topped with fiery chilli-fried prawns, just to give you a bit of a kick half way through the day!
Tuna Niçoise protein pot
Who says eating healthy is hard?! Check out this easy peasy tuna lunch which is packed with protein.
There you have it – just a few suggestions for you guys to use to make lunches easy, nutritious and yet delicious and to help you step away from the norm.
Enjoy! Do share with my your food pics on Instagram and Twitter – remember to tag me in! #womanonamission