This is part three in a series of three, about giving yourself the Gift of a Stress Free Christmas – the Food Edit. How to spend more time with your family and less time in the kitchen on Christmas Day.
Christmas for me is all about enjoying time together as a family, so if I can do as much planning for our Christmas festivities, the better. As a busy mum, running a business, managing the swim taxi service including National Swim Championships just days before Christmas, it's important to me that I don't have a mountain of "foodie jobs" to do in the kitchen on Christmas Day itself.
Having spent a fabulous day with Chef Ben Palmer, a quarter finalist in BBC TV's MasterChef: The Professionals in 2011, at Glazebrook House several years ago, I learned some wonderful tips, while enjoying a delicious Christmas meal and a glorious day with friends. A memory I will treasure and which totally changed how I prepare for not only the festivities but also my day to day food organisation.
"Christmas will always be as long as we stand heart to heart and hand in hand."

Dr Seuss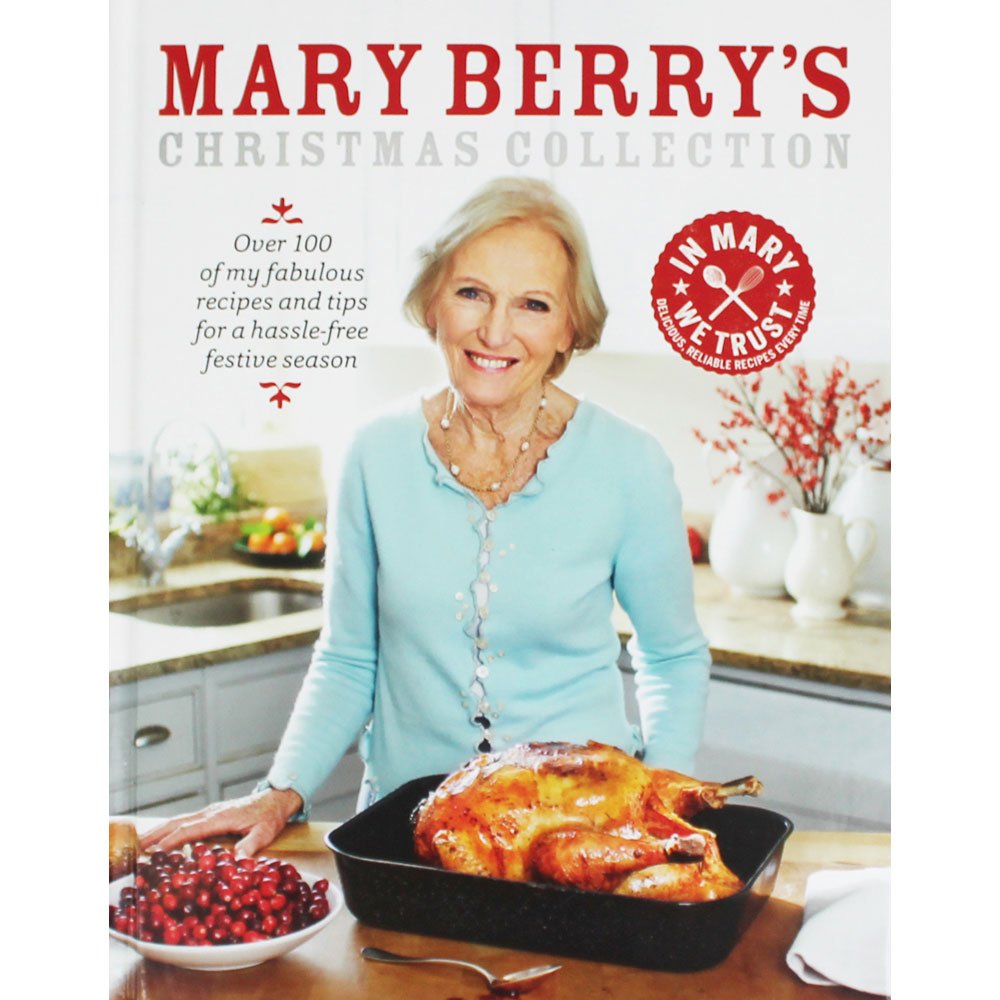 We all have little things that appear, meaning Christmas isn't far away. For me, Mary Berry's book, Christmas Collection full of ideas for entertaining your family and friends throughout the Winter and festive season and complete with timings. It's a much loved book and well used!
I can wholeheartedly recommend. With timings including a cooking itinerary, Mary has everything covered!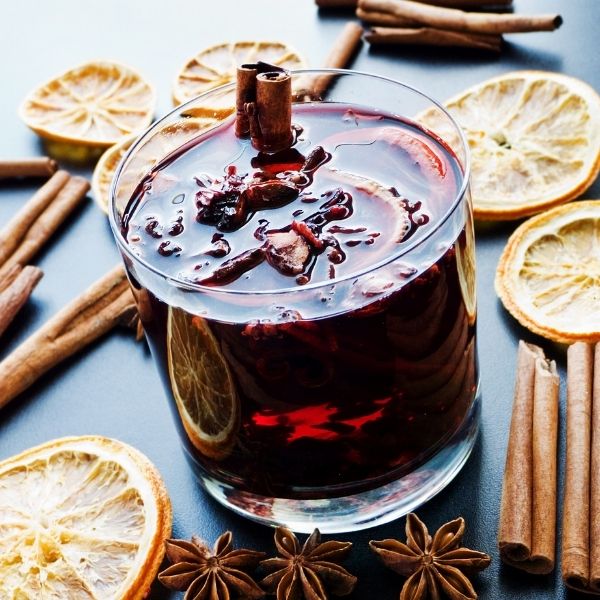 Festive Mulled Wine
The most delicious mulled wine, a recipe by Ben Palmer.
Perfect if you've been outside in the cold!
Ingredients
2 oranges * I lemon * 1 lime * 200g caster sugar * 6 whole cloves * 2 cardamon pods * 1 cinnamon stick * 3 fresh bay leaves *10-12 gratings of whole nutmeg * I vanilla pod (halved lengthways) * 2 star anise * 2 bottles red wine
Method:

Peel large sections of peel from your fruit.

Put the sugar in a large saucepan over a medium heat, add peel and juice of oranges. Add the spice and vanilla pod and add enough wine to cover the sugar.

Simmer until the sugar has dissolved, bring to the boil. Boil for 5 minutes until a thick syrup. Turn the heat down to low and add the rest of the wine. Gently heat and serve.
Christmas Traditions.
Every family has a little tradition on Christmas Day don't they? If we are at home, we love to walk on the beach (after popping the turkey in the oven of course!) We prefer to have standing canapés with a glass of fizz, rather than a starter, and then we sit down for our roast turkey and all the trimmings.
Moët & Chandon Impérial Brut offers a bright fruitiness, a seductive palate and an elegant maturity, revealing aromas of pear, citrus and brioche.
Villa Maria: Marlborough Sauvignon Blanc
Sourced from vineyards across the Marlborough region, this intense Sauvignon Blanc is alive with a myriad of flavours dominated by gooseberry, passionfruit, fresh citrus and herbaceous aromas.
A sensational choice for your winter dinner party or special occasion, the 'Catena Alta' Historic Rows malbec 2017 from the legendary Catena label is our best malbec for 2021. has gorgeous, rich, blueberry and cassis flavours, a hint of spice and a long, satisfying, plummy finish: a level of sophistication and elegance that is often only found in wines twice the price. A great wine for a winter dinner party.
"My secret to Christmas this year, as it is every year, is my to-do list. I'm always in charge if preparing the lunch – I like to think of it as simply a big roast dinner"

Mary berry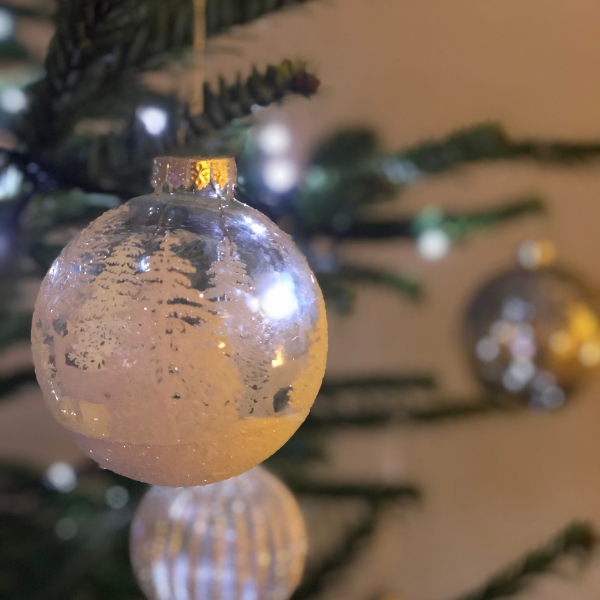 Christmas Day Preparation.
In the weeks leading up to Christmas, I prep as much as possible including writing a menu plan, a shopping list for fresh products and equally what I can organise in advance that don't have any time restraints. The week before the big day, I potter, (ha in-between swimming taxi and other life events, much like everyone else!) doing little jobs in the kitchen, whilst I'm preparing every day meals, so that Christmas Day is kept stress free and smooth!
Vegetables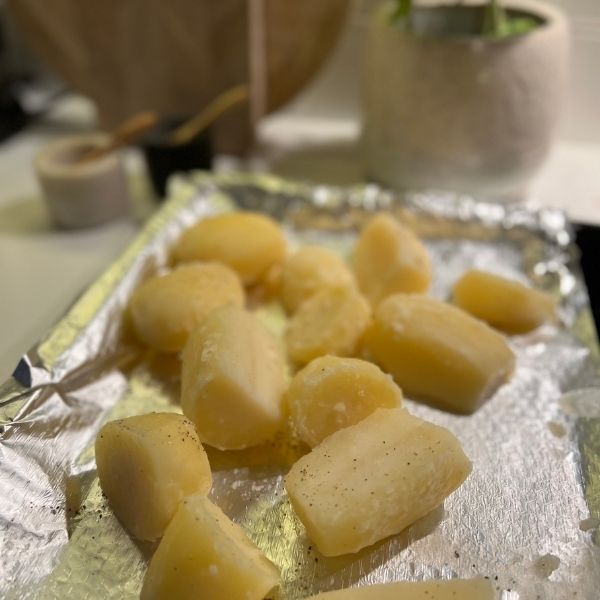 Crunchy Roast Potatoes
Like Mary Berry, I've always thought of Christmas lunch as if I'm planning a roast – the pressure is immediately removed!
Whenever I prepare a Sunday roast, I always peel double the amount of potatoes required and use this method With my roast potatoes, so I always have some in the freezer. Christmas is no exception!
I'm sure you don't need me to tell you how to cook roast potatoes, however I'm sharing how I save time and to help you have a stress free Christmas Day so here goes!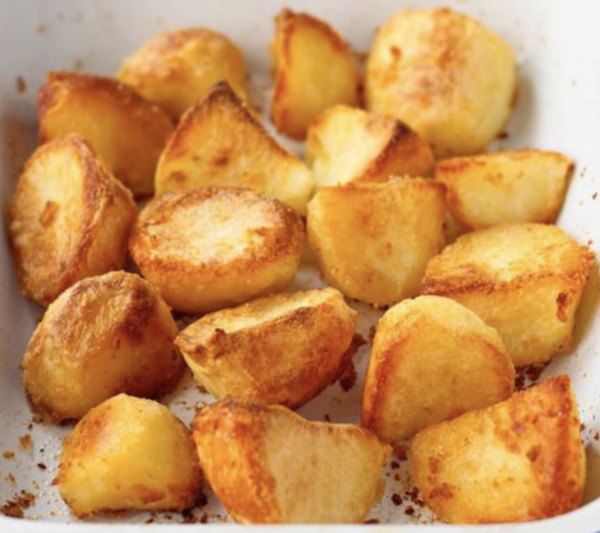 Peel and cut your potatoes into a size similar to the image on the left. Parboil them for approximately 5-7 minutes, drain and shake in a colander to fluff the edges. Pop them onto kitchen roll and dab dry.

Tip onto a roasting tin and season with salt and pepper and a sprinkle of plain flour, now put into the freezer overnight. When frozen, pop them into a freezer bag, (Remember to date!)

On Christmas Day, take the potatoes out of the freezer and cook as you would normally. Heating 3-4 tablespoons of goose fat, add the frozen potatoes, coat and season. Cook for about an hour, depending on size, turning from time to time, until golden and crisp.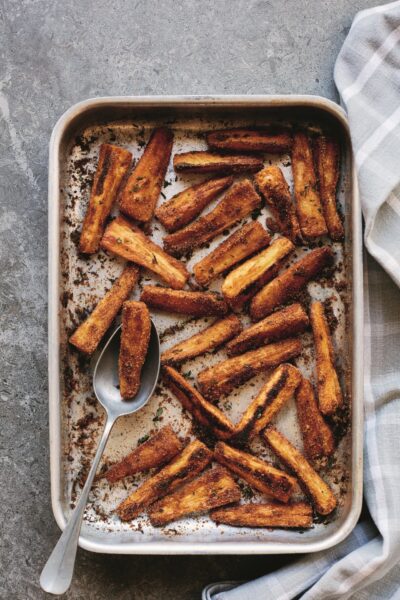 Golden Crunchy Thyme Parsnips
Recipe from Love to Cook by Mary Berry
Serves 4-6
4 large parsnips (about 500g), peeled and cut into 5cm strips
3tbsp of sunflower oil
25g of semolina
1tbsp of paprika
1tbsp of chopped fresh thyme
Cook the parsnips in boiling water for four minutes. Drain and leave to cool.
Preheat the oven to 220°C/ 200°C fan/Gas 7. Add a tablespoon of oil to a roasting tin and place in the oven for five minutes to get hot.
Add the remaining oil to a bowl. Season the parsnips with salt and black pepper and toss in the oil to coat.
Mix together the semolina, paprika and thyme in a small bowl. Add to the parsnips and mix well to coat them in the mixture.
(At this point, I do exactly as I do with the potatoes, pop in the freezer until the big day.)
Place the parsnips in one layer in the tin with the hot oil and roast for about 20 minutes, turning over halfway through the cooking time, until golden and crisp.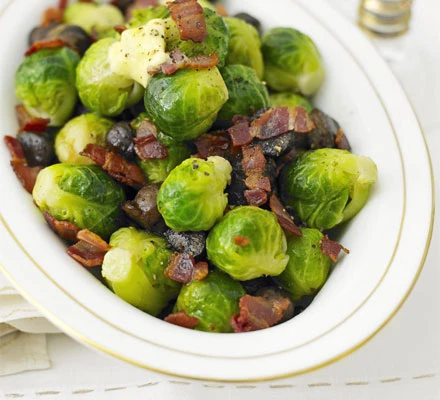 Sprouts!
Love them or loathe them, they have to feature don't they?!
These should be cooked at the very last minute but can be prepared a day ahead and kept in a freezer bag in the fridge.
Cook in boiling water for 5-6 minutes, and season with salt and pepper and a dash of butter.
If you'd like to go for a little more glamour, stir fry sliced sprouts with bacon lardons, and or chestnuts.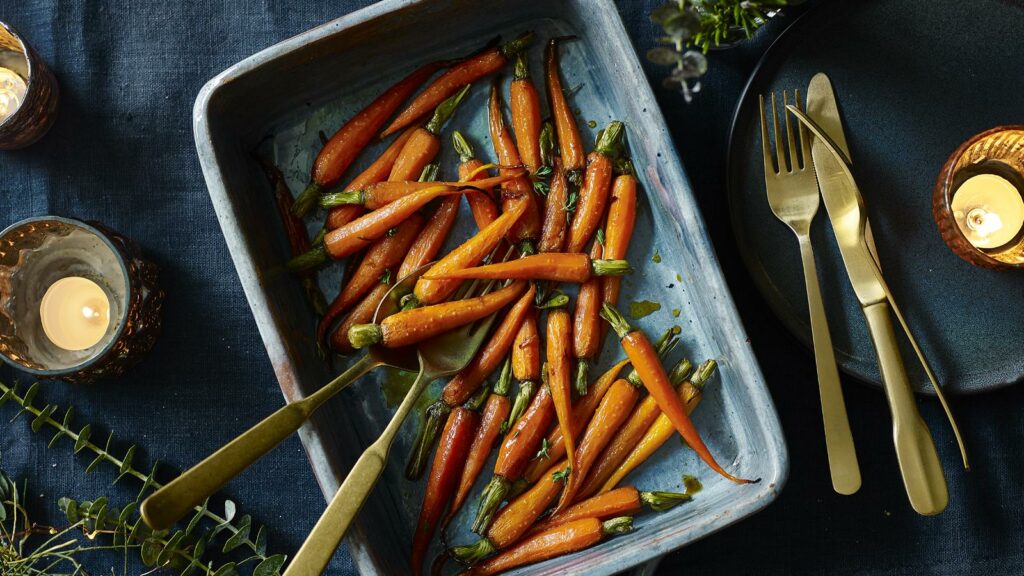 Honey Roasted Carrots
A great side dish to any roast, or with Christmas dinner, these thyme-speckled honey roasted carrots are cooked to enhance their natural sweetness. This recipe from Justine at the Good Food Guide is simple yet full of flavour.
1 kg/2lb 4oz small carrots such as Chantenay or baby carrots * 2 tbsps olive * 3 tbsp clear honey * 1 tbsp fresh lemon juice * 3–4 sprigs fresh thyme * salt and freshly ground black pepper.
Method

Preheat the oven to 200C/ 180C Fan/Gas 6. Trim the carrots and peel, if you prefer. Cut any particularly large carrots in half lengthways.

Place on a large baking tray and pour over the olive oil. Season with salt and pepper, toss well and roast for 15–25 minutes, or until almost tender and lightly browned. (The time will depend on how thick the carrots are.) Whisk the honey and lemon juice together.

Take the tin out of the oven and drizzle over the honey and lemon mixture. Pick the thyme leaves off the sprigs and scatter over. Toss lightly and return to the oven for a further 8–10 minutes, or until the carrots are tender and glossy.
"Christmas is about sharing our homes with the people who matter to us the most. And a little planning goes a long way in making every room sparkle, cosset and glow.

From the thoughtful touches to the most memorable moments, we're all set to help you make your home a place of celebration, comfort and joy this season."

Neptune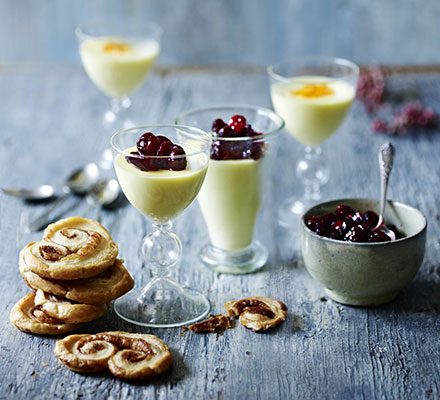 Lemon and Cranberry Possets
This is an absolutely delicious desert at any time, but is special for Christmas too. Light and super easy to make. Make in advance to serve on Christmas Eve or Christmas Day.
Ingredients
Makes 6-8
1 1/2 pints double cream * 9oz caster sugar * Juice of 3 lemons * handful of cranberries
Method

Boil cream and sugar for 2minutes. Add lemon juice.

Put Cranberries in the bottom of your pretty individual serving glasses. ( 6-8)

Pour mixture over the top. Refrigerate until set. Serve chilled.
Chocolate Roulade
A firm Mary Berry favourite in our house for any celebrations and especially at Christmas. This is perfectly light dessert and a lovely alternative to the Christmas Pudding.
It's very easy to make, can be made 24 hours ahead or can be kept in the freezer for up to a month.
Serves 8-10
Ingredients
175g (6oz) plain chocolate
175g (6oz) caster sugar
6 eggs, separated.
2 tablespoons cocoa powder, sifted.
300ml (1/2 pint) double cream
icing sugar
Method

Preheat the oven to 180C / Fan 160C / Gas 4Lightly grease a 33x23cm swill roll tin and line with non-stick baking parchment, pushing it into the corners.

Break the chocolate into small pieces into a bowl and stand the bowl over a pan of hot water, the bowl must not touch the water or the chocolate may overheat. Place the pan over a low heat until the chocolate has melted. Allow to cool.

Measure the sugar and egg yolks into a large bowl and whisk on a high speed until light and creamy. Add the cooled chocolate and stir until evenly blended.

In a separate bowl, whisk the egg whites until stiff but not dry. Stir a large spoonful of the egg whites into the chocolate mixture. Mix gently, fold in the remaining egg white and the sieved cocoa powder. Spread evenly in the prepared tin. Bake in the preheated oven for about 20 minutes until firm.

Remove the cake from the oven, leave in the tin, cover with a dry tea towel and leave until cold.

Whip the cream until it just holds its shape and dust a large piece of greaseproof paper with sifted icing sugar. Turn out the roulade and peel of the greaseproof paper. Spread with the cream. Roll up very tightly like a Swiss roll using the paper to help. Don't worry if the roulade cracks, a good one should! Dust with more sifted icing sugar to serve.
(If you're planning to freeze, omit the final icing sugar until you're ready to serve.)
"Christmas isn't a season. It's a feeling."

Edna ferber
"Christmas is a together-y sort of holiday."

Winnie the pooh
Remember the most important thing about this time of year is spending time with your loved ones and not stressing about the gravy! Be kind to yourself! Have a glass of something special, relax and enjoy your day.
Wishing you a very Merry Christmas,
Love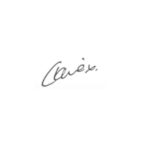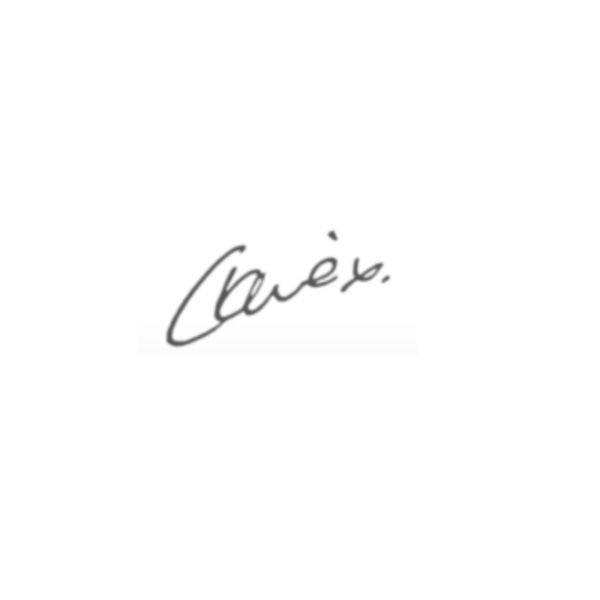 You might also enjoy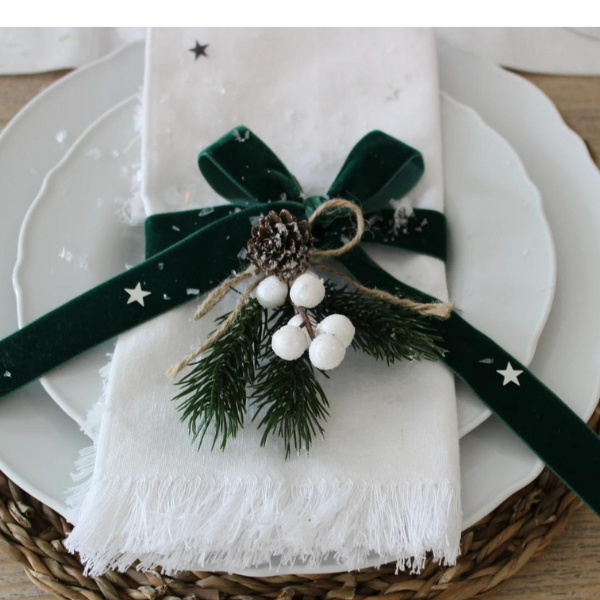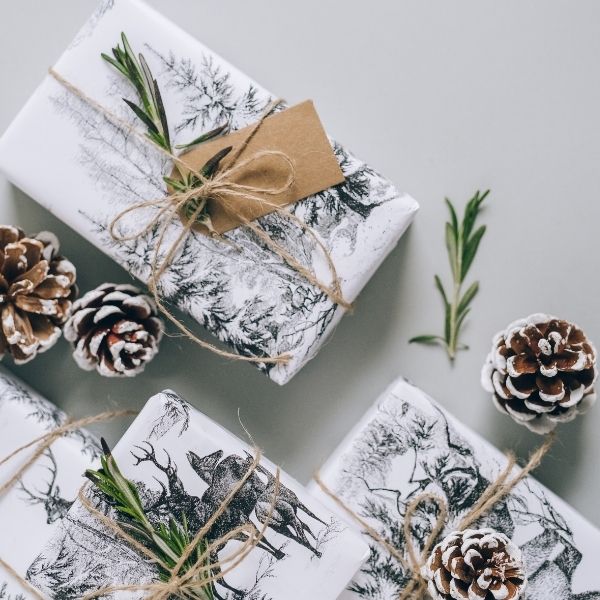 Part Two: Stress Dress Christmas; your Christmas gift guide bringing you those little gift solutions for the special people in your life, without breaking the bank or hurting the planet.